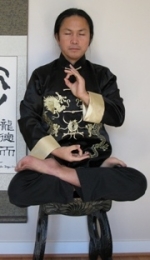 Since 1988, Master Zhongxian Wu has instructed thousands of students, both Eastern and Western. He synthesizes wisdom and experience for beginning and advancing practitioners, as well as for patients seeking healing, in his unique and professionally-designed courses and workshops.
Master Wu is the author of several Singing Dragon books including, The 12 Chinese Animals: Create Harmony in your Daily Life through Ancient Chinese Wisdom. Here, he answers a few questions about the book.
How did this book come about?
I grew up in a traditional fishing village in southeast China, and for my entire upbringing, I saw that people commonly used astrology to help make decisions about important events (finding a spouse, setting a wedding date, building a house, opening a business, health issues, etc). Because our village had no electricity, pipe water, or roads larger than a foot path, we all lived very closely with the rhythms of nature.
Chinese astrology is the art of living in harmony with the hourly, daily, monthly, and yearly cycles of life. When I was young, my mother always consulted the people living in the local temple when she needed help. I was astonished by the accuracy of their advice and their ability to predict outcomes. I became interested in learning more about astrology and its connection to Chinese medicine and the Yijing prediction system. My main focus is teaching Qigong, Taiji and the Yijing to help others to create harmony in their life. Through over 20 years of teaching these ancient Chinese wisdom practices, I realised that Chinese astrology is a great tool to help guide people through their life and their inner cultivation.
Chinese astrology is far more complex than most people realise. What accounts for this misconception, and how does your book contribute to a deeper understanding?
In the West, most people think Chinese astrology is only about their yearly animal sign. The knowledge of Chinese astrology system is extremely complicated, and I think perhaps difficult for most people to understand. In China, we call astrology BaZi (8 characters) or MingLi (principle of your karma), but only a small amount of people actually understand how to put together and interpret a chart. Most Chinese have to find an expert to help them, and finding someone really qualified and skillful can be challenging. Of course, you may easily find a fortuneteller on the street, but they are usually not very accurate.
I think the misconception in the West is mostly for convenience sake, to make it more simplified, more available for the general public and more for entertainment value. The yearly animal sign is a small percentage of what influences your entire chart. In my book, I also discuss the monthly and daily animal sign, which will help people develop a fuller understanding of their chart. It is important to realise that the 12 animals is just one aspect of Chinese astrology – creating and understanding a whole chart for the sake of prediction is a much more complicated process.
Most people do not realise that the 12 animals also relate to the 12 tidal hexagrams of the Yijing. The Yijing, of course, is a method of understanding the rhythms of nature and of life. When I wrote this book, I wanted people to get a little taste for the complexity behind the Chinese astrological system.
What does it mean to have an energetic month, day or year?
The energetic day, month and year are based on the rhythm of the sun and moon, which is different from the Gregorian calendar. For example, the energetic year is not from January 1 (the Gregorian new year) or the first new moon of the first lunar month (the Chinese new year), but rather, it the begins at the time where the sun is exactly at the celestial longitude of 315 degrees, which usually occurs on Feb 4th or 5th in the Gregorian calendar.
How does understanding one's Chinese animal symbols help them make better choices?
The use of Chinese animal symbols is a key to understanding the principles of your life and of your karma. They can help you understand your strengths and your weaknesses. Becoming conscious of your own patterns will give you information about how to cultivate your gifts and refine your challenges, which will help make your life flow more easily, with less struggle, and bring you success in your pursuits.
In the final chapter of the book, you discuss the Daoist concept that 'life is not controlled by fate or karma alone'. What does this mean in the context of astrology?
If you want to change your karma, you have to know what your karma is.
A good understanding of Chinese astrology doesn't only help you understand your karma and predict the future. The purpose of the reading is to guide you to make changes in your life, from daily lifestyle habits to larger life decisions that will allow you to change your karma, to help you remain centered when something unexpected happens, to steer clear of trauma, and put you on on the path of health, prosperity, and longevity.
How do you integrate your Chinese animal symbols into your own daily life?
I use the practices to guide my inner cultivation in order to balance and strengthen my astrological chart (which varies depending on the hour, day, month, season, year, or external life event), so that I feel more harmonious with my self, my family, and with nature. For example, I will check the Chinese calendar to pick out dates for travel or signing a contract. Based on the animal symbols, I also chose special colours for home and office in order to create the right fengshui for those environments. My wife and I make meals according the the principles of the Chinese animal clock to create a healthy daily rhythm for our family.
The 12 Chinese Animals: Create Harmony in your Daily Life through Ancient Chinese Wisdom and Master Wu's other books on Qigong and ancient wisdom traditions are available from intl.singingdragon.com