Sabine Schmitz (M. Med. TCM) is a graduate of the Zhèjiang Chinese Medical University in Hángzhou, China where she majored in Chinese medical dermatology. Her enormous knowledge treasures from China as well as her many years of experience benefit many patients with chronic and complex skin diseases – such as psoriasis and eczema – but also many other patients with various diseases. Sabine has a busy TCM practice specializing in skin diseases, gynecological disorders and infertility treatment. Her first book with Singing Dragon, Treating Psoriasis with Chinese Herbal Medicine (Revised Edition) was published in 2020 as part of a new dermatology series. Her second book with us, Treating Acne and Acne Rosacea with Chinese Herbal Medicine, will be published in November 2021.
Change is the only constant in life – a popular quote by the Greek philosopher, Heraclitus. And it is true, in life ups and downs alternate, joy and sadness, and so on. This is normal. Life is not a constant continuum of ongoing happiness and living on the bright side as the current pandemic shows us. All of us are facing difficult times right now. In my practice, I observe the longer difficult times like this pandemic for instance lasts the more problems the patients have. Patients get tense, stressed or anxious depending what kind of type of person they are. They either develop new symptoms or, and that's quite often, old processes flare up again and worsen. As I do specialize in TCM Dermatology and Gynaecology I see this to be true for many skin diseases every day. Chronic skin diseases like psoriasis are good examples of this.
We all know that skin diseases in general are often complicated and neither easy nor fast in their treatment. Stress and emotions like frustration, anger as well as anxiety definitely need to be taken into account. In my practice, I frequently observe in patients with psoriasis who have had episodes of severe stress or periods of recurring frustration and anger a worsening of their skin condition. Thus, we need to take the patients' emotions and circumstances into account. It would be a mistake not to do this – to not consider the obvious which is often the root cause of the disease. Saying this, I really think that right now our wonderful medicine is needed more than ever!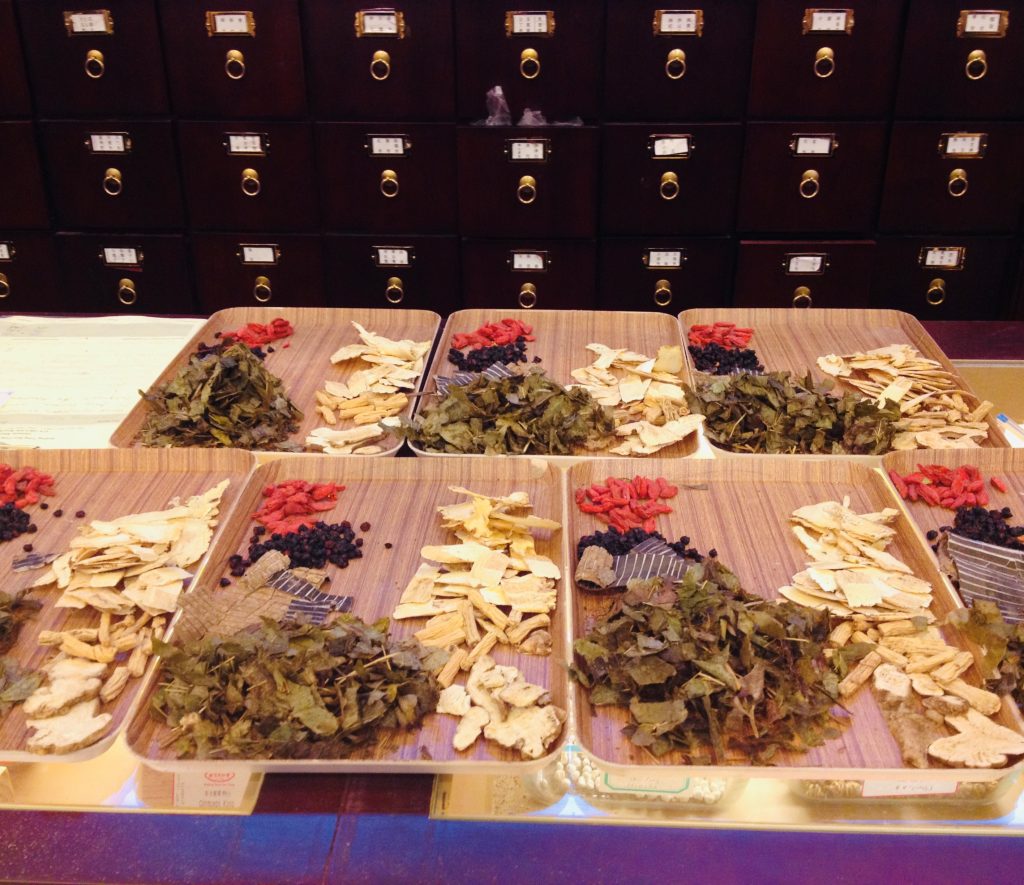 Skin diseases must be understood in the context of the entire body, a perspective which is fundamentally different from conventional medicine. Of course, we, as TCM doctors, cannot work miracles in weeks and achieve an outcome that conventional medicine has not achieved in several years. From my experience, the need for natural but effective and sustainable treatment methods definitely exists. In my practice, I see that many patients don't want to take conventional drugs anymore which don't have any impact on the underlying cause of the disease (proved when the symptoms of the disease reoccur after drug cessation) and which may cause severe side effects. At the end of this ordeal, patients start looking for other treatment option to help their skin. Here, this demand meets a medicine that can draw on thousands of years of experience. A medicine that works gently, may take a little longer, but is effective and above all sustainable: TCM.
Let's get to how to proceed in daily practice. The following will be useful for everyone who sees and treats skin diseases in their daily practice regardless of their specialization. It has to be said that the challenge of diagnosing and treating skin diseases requires a good ability to observe and to analyse. So be attentive and take your time.
How to find the correct diagnosis according to TCM
A first diagnosis of the skin disease leaves us with multiple options for internal and external treatments. The following presents a step-by-step assessment of this process.
For a correct diagnosis of skin diseases according to TCM, it is essential to consider the following factors:
an examination of the skin lesion (its onset, duration, location, appearance and temperature)
the exacerbating or relieving factors
all associated symptoms such as itching, burning, scaling, bleeding, or discharge.
The focus in Chinese dermatology is always the skin lesion with all its presenting characteristics. This is clearly one of the most beneficial aspects in Chinese dermatology. Besides the presenting skin disease, factors such as emotions, sleep, diet, digestion, lifestyle and environment (potential stress, overwork night shifts), and the menstrual cycle in female patients are important aspects of the Chinese diagnostic process. Moreover, by taking the pulse and tongue diagnosis into consideration, the therapist gathers information on how the body works as a whole. Then, once the Chinese diagnosis has been established, an individual treatment plan is created.
How to create an effective treatment plan according to TCM
In severe or long-lasting skin diseases, Chinese herbs can be prescribed for both internal treatment and external application. One issue is important, but often overlooked: in particularly stubborn cases it is often advisable to enquire after diet, living circumstances and lifestyle habits. This is especially true for those patients with a chronic skin disease who expect instant results, or patients who state that they have already tried every method available. Practitioners might be surprised what they will learn about bad eating habits, massive alcohol consumption or a constant lack of sleep. For those patients it is essential to provide dietary advice and to explain what role their own behavior plays in managing their disease. Telling them to go to bed early or to reduce their workload to lessen stress may seem to be simple and obvious advice, but patients often find it hard to break habits. One approach is to help the patient understand that they are doing it for themselves. If you can help a patient realize that they are a part of the therapeutic process, substantial progress can be made.
In my book "Treating Psoriasis with Chinese Herbal Medicine" I have shared with you my knowledge from my many years of experience in TCM Dermatology and the treatment of psoriasis. TCM offers us an outstanding medicine for the treatment of many skin diseases. Seize the opportunity and expand your knowledge on TCM, the skin and psoriasis in all its variations.
---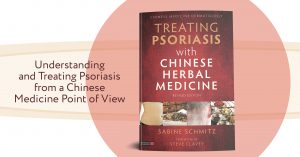 Treating Psoriasis with Chinese Herbal Medicine
A Practical Handbook
by Sabine Schmitz
Using a modern and practical approach, this book looks at the root cause of psoriasis from a Chinese medicine perspective. It examines in depth the most common Chinese medicine syndromes and formulas that have proved to be effective, discusses the role of the environment and emotional health and covers both internal and external applications. Learn more