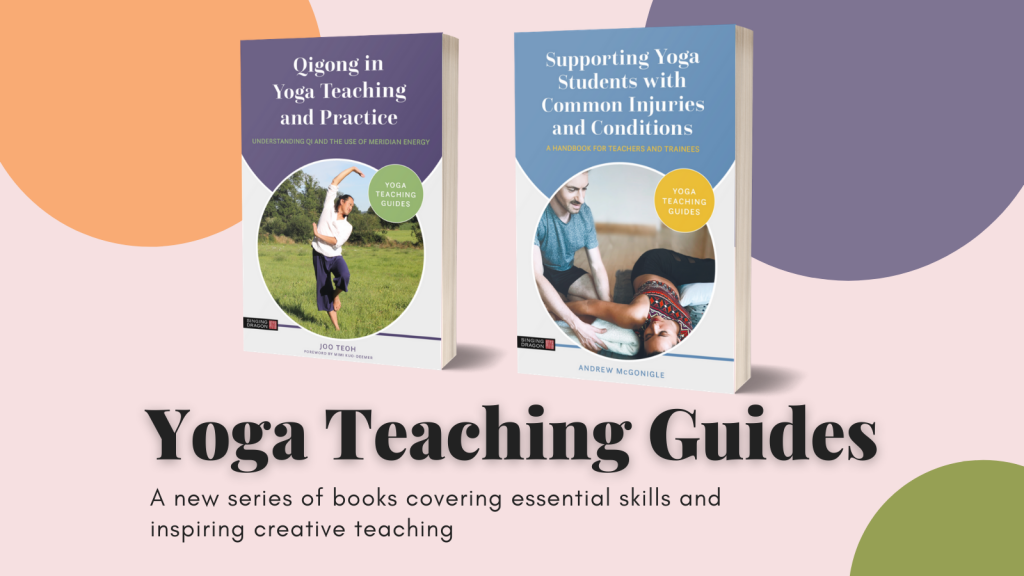 We are pleased to introduce you to our brand new series of books: Singing Dragon's Yoga Teaching Guides. This series – written by experts in the field – covers essential skills as well as providing inspiration for creative yoga teaching, both for the new and the experienced yoga teacher. In this short piece, hear from Sarah Hamlin, Senior Commissioning Editor at Singing Dragon, as she introduces the series and shares a few hints on what is yet to come. Join our mailing list to be kept up to date with new releases!
Back in 2017, Singing Dragon published the Yoga Teaching Handbook, an edited collection which brought together experts sharing their experiences of the day-to-day practicalities of teaching yoga and managing yoga businesses. The handbook was one of the very first yoga books I commissioned, and it was truly wonderful to work with a group of people so passionate about yoga and so committed to sharing knowledge and advice with the wider yoga community.
Four years later we are launching our brand-new series, Yoga Teaching Guides, inspired by the 2017 handbook. Building on the key topics and themes included in the handbook, our series authors are able to share their expertise in greater depth so that yoga teachers everywhere can refine their skillset, be inspired to think creatively about teaching, and ultimately feel confident in sharing a meaningful yoga practice with students.
And what better time to launch the series than in Singing Dragon's 15th birthday year!
We are delighted to be able to publish some of the same authors from the handbook in this new series, including Dr Andrew McGonigle on supporting students with injuries and common health conditions, and Tarik Dervish on how Ayurveda can enhance your yoga class. We will also be bringing new voices to the series, such as Joo Teoh on applying Qigong principles to yoga teaching. These are just a few of the books to come, so keep your eyes peeled for topics such as theming your yoga class, the nitty-gritty of running a yoga business, and sustaining a home practice alongside a teaching career.
Whether you are a teacher trainee, newly-qualified, or have lots of experience under your belt, the Yoga Teaching Guides are a source of reliable and expert information. They will help to refresh the skills you learnt during your teacher training and encourage you to think about your yoga practice in new and exciting ways.
If there are any topics you would like to see covered in the future, please feel free to drop me a line: Sarah.Hamlin@jkp.com.
Click here to sign up to the Singing Dragon mailing list and be the first to hear about upcoming releases!
Upcoming Books in the Series