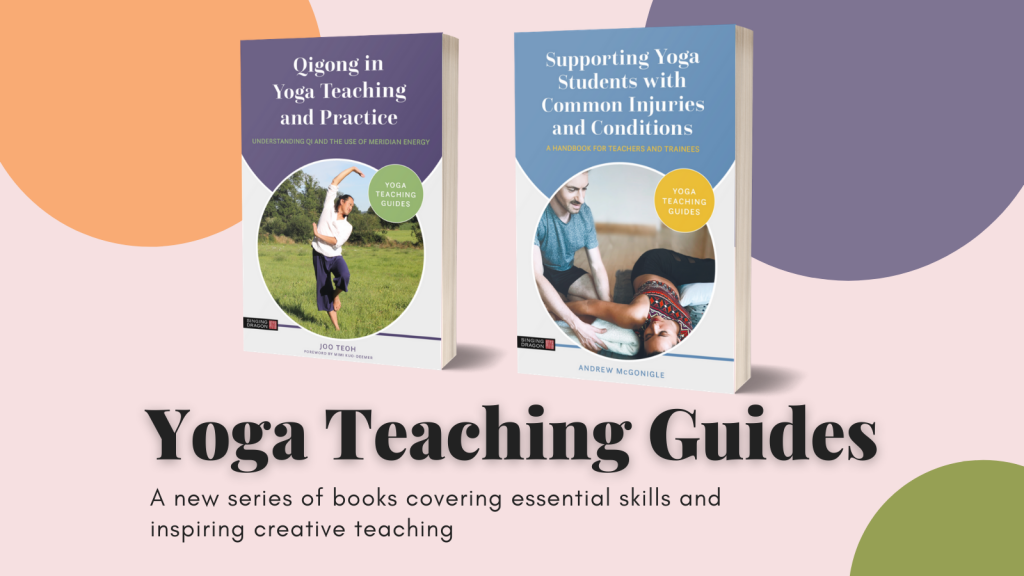 Singing Dragon's Yoga Teaching Guides is a new series of books, launching in March 2021. Edited by Sian O'Neill and written by renowned experts in the field, the books in the series cover essential skills as well as providing inspiration for creative yoga teaching, both for the new and the experienced yoga teacher. In this short piece, hear from series editor Sian as she introduces some of the upcoming books and talks about her inspiration behind the series. Join our mailing list to be kept up to date with new releases!
As a yoga teacher, I'm always on the lookout for inspiration and ideas to help improve my classes for students and I have a feeling I am not alone. It can be challenging to come up with varied, interesting (and safe) classes week after week – so practical tips from highly experienced and inspiring teachers are always appreciated.
Following the successful launch of the Yoga Teaching Handbook, it became clear that there is an interest among yoga teachers and trainees in practical tips to enrich their teaching. So, I was thrilled when Singing Dragon asked me to be editor for a new series aimed at yoga teachers, Yoga Teaching Guides, and we are delighted to be launching a series of volumes on topics ranging from supporting injured students; yoga and qigong; developing a home practice; the art of theming, and yoga and Ayurveda – with more to follow.
Individual titles within the series address common questions such as:
Is that common cue we hear repeated in class actually suitable for all students?
How can classes be enhanced with a knowledge of the ancient Chinese art of Qigong?
Perhaps particularly relevant right now, how can we assist our students in developing a home practice?
How can we keep our yoga sequencing varied and fresh?
How can knowledge of the ancient practice of Ayurveda be incorporated into class plans?
Watch this space and join the Singing Dragon mailing list for future volumes, including on marketing your yoga business, however big or small that may be, or how to adopt a mindful approach to yoga.
I have found the series editor role so interesting and rewarding – enjoyable aspects include working with authors on their proposals for their new book project, reviewing manuscripts and, of course, fun parts such as seeing the intended cover designs and our fantastic authors getting wonderful responses on social media as they share their titles.
And that's before the first book has published!
I have learned a great deal from reading the individual volumes, all by renowned experts in their respective fields, and I know you will too in their published shiny form!
Please do keep in touch on sianoneill@yahoo.co.uk with your feedback. I'd love to hear from you.
Upcoming books in the series