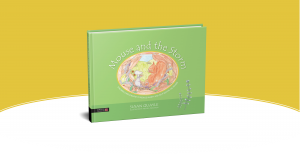 Susan Quayle, author of the 'Mouse' series, spoke to us to discuss her background in reflexology, the concept behind her books and how the practice of reflexology can help children.
Susan, you've been a reflexologist for a number of years. How did you discover reflexology?
I actually believe that reflexology discovered me, despite my resistance to it.
I first came across it at a green festival in Dorset. I tried it and found it extremely relaxing. At the time I was a hardcore horticulturalist, plants were my passion, but I did buy Laura Norman's book and was fascinated with the whole idea.
Shortly after this my sister-in-law became pregnant and suffered very badly with Hyperemisis Gravidarum and my first step on the road to becoming a maternity reflexologist, unbeknownst to me, was when I would visit her and give her the treatment for morning sickness from Laura's book. It always made her feel better.
It was another ten years before I retrained in massage therapy and followed this training with sports massage. Unfortunately, the sports massage tutor wasn't very good and we all felt that we would never get through the exam or have the required knowledge to work in this field so we left en-mass. The only other course that was running was the reflexology diploma, which I was very unsure about joining. Fortunately I did and came to realise very quickly what an incredible therapy it is. I have trained in many therapies but reflexology has been the focus of my career followed closely by aromatherapy.
What do you think it is about reflexology that is so beneficial for children's physical and mental well-being?
I have seen reflexology totally relax children, almost instantly; their eyes glaze and have a far away look in them and it happens very quickly if the child is in need of the treatment.
Reflexology promotes a profoundly deep relaxation that often feels like a switch being flicked and a part of you just sinks into a deep restfulness. It is during this deep rest and quiet space that the body is able to begin a healing response.
Children are open to new experiences and engage fully, when they feel safe and comfortable, which enables them to reach this place of healing and relaxation very quickly. As they are so young and untainted by life-long indulgences their body can rebalance quickly and often does.
Every day our children are put under more and more pressure to perform, conform and do well. Their physical and mental health is constantly under threat and children with supportive families are just as likely as those without to be prescribed drugs for depression now.
Complementary therapies are an important part of family life. In so many cultures around the world, where appropriate, nurturing touch is shared by the whole family not just given to the babies and young children.
Touch helps children to be more accepting of their body and the changes taking place, touch is an important part of being human and I think is particularly important for teenagers, who would accept it more readily if it had been part of their every day life delivered within the safety of a loving family.
Your new book (and the other books in your series) focuses around characters and a story to accompany a reflexology exercise. How did you find this process?
As with all processes that appear to arrive from nowhere, my first book had actually been many years in the making; deep inside my head where all the creativity is happening without me even really knowing about it.
Both my children were brought up with a love of books; we read to them every day and sang songs, our favourites were always the rhyming stories and songs. So it all began with Slinky Malinky, The Gruffalo, The Snail and the Whale, Green Eggs and Ham and all those wonderful books for children. I have always been pretty good at putting little rhymes together for children's cards and things so the rhyming was fixed a long time ago.
The actual 'Eureka' moment, like Archimedes, occurred in the bath, a great place for parents to get a moment's peace and actually lose themselves in thoughts. I jumped out and wrote the first draft instantly, that was the effect of all those years of preparation in the hidden corners of my brain! Many months' work followed but that very first draft took place on October 12th 2012. I have never been so excited or bewildered!
Once I had the idea it was only really a matter of allowing the story to develop in my head. I think I could come up with them forever!
What reaction have you had to your books so far?
The reaction to the books has been wonderful. They have been embraced by the reflexology community and have even won awards, along with The Children's Reflexology Programme, (the teaching programme that now goes with them). I think it was such a unique and novel idea to put reflexology to a story and also to make this lovely, gentle complementary therapy available to children. Children have embraced it whole heartedly; they love the animal characters, finding the animals on their own feet but also sharing such healthy, positive touch with family and friends. Complementary therapy made accessible through play offers a positive understanding of issues relating to health, self care and nurturing, positive touch within families but also within communities.
How is Mouse and the Storm different from the other books in your series?
My latest book Mouse and the Storm differs from the first two in that it contains hand reflexology. The first two books use foot reflexology so are more about giving and receiving reflexology. Book three is about giving and receiving too, but it also focuses on self treatment. Mouse and the Storm was written specifically to support parents of children with additional needs and to go with our courses for these parents.
Being able to self treat offers many children who have challenges with day-to-day transitions, between places and activities, strategies to help them. It also allows children with sensitivity issues to take control of the pressure and touch that is used on them. We have seen some wonderful results with both the book and the course, and with these children loving and engaging with the animal characters too. We have had reports of children coming home from school and telling their parents how many times they visited Mouse that day.
Are there any challenges you have encountered when using reflexology with children?
Using reflexology with children can be as challenging as trying to get them to engage in anything else. It can take time to build a relationship with them, which can create some awkward moments! If a child doesn't want reflexology the chances are that today you won't be giving any. However if you are careful you may well sow the seeds that will allow you to treat them next time. Children are naturally curious and once they have made a connection with you they will put their trust in you and love to learn. You can't force a child so really it is about releasing your own ego and making it all about the child. I had one little boy whose mum used to come to me for reflexology and I always gave him a bit too. He wouldn't allow anyone to give him reflexology except me – he grew out of it soon enough and now gives his baby sister reflexology as well as his parents; he's only five.
Lastly, what do you hope readers take away from your book?
My passion is reflexology. I wrote my books so that I could share the huge benefits of reflexology with as many families as I could. I hope that the next generation will grow up not only knowing what reflexology is but what it feels like to receive and what it feels like to give, and value it as a resource available to them with little cost or effort. Hopefully these children will grow up wanting to share these books with their own children and so pass their knowledge on to the next generation.
Reflexology is an experience, a powerful human connection on a deeply personal and nurturing level that I hope will resonate with every child that encounters it through my books at a young age. To value connection and humanity through our basic human need, touch, is a value worth instilling from as early an age as possible. Complementary therapies are a gentle way of bringing communities together in health, well being, nurture and caring. Our children need to grow up in the warm embrace of these life skills for their own good health and that of each other. Our families and communities need to reconnect on the most basic level. This is a part of what I hope my books can bring about.
If you would like to read more articles like this and hear the latest news and offers on our books, why not join our mailing list? We can send information by email or post as you prefer, and please also tell us about your areas of interest so we can send the most relevant information. You can unsubscribe at any time.
---
To view the whole series by Susan Quayle, please click here.
A hand reflexology programme designed to relieve anxiety in children, accompanied by a soothing story about dealing with unexpected disruptions
A charming story about Mouse and her friends as they find fun on a stormy day with an accompanying simple reflexology treatment to help relieve discomfort from teething, constipation and colic
An enchanting story about a mouse's mission to make a cosy home for Winter with an accompanying simple reflexology massage for parents or carers to perform on a child