by Susan Quayle, author of Mouse's Best Day Ever

Sitting at the kitchen table were my two children and my daughter's two friends, who had come over to play. They were having lunch and chattering away as children do, when I heard, "Poppy's got a reward chart," after which there was a brief silence, followed by, "for going to the toilet." I have to admit that this was not exactly what I was expecting to hear. I turned around to join in the conversation, asking "how does that work then?"
It turned out that Poppy had suffered from constipation from a very young age and had been using laxatives ever since. In a desperate bid to help encourage and reward her daughter through the traumatic releases of her constipation, Poppy's mum had decided to try a reward chart.
I hadn't been qualified as a reflexologist for very long and, although practising, I was still very much a mother first as my children were still very young. Knowing how effective reflexology was at helping to relieve constipation, when the girls' mum came to pick them up I asked her if she thought Poppy might like to try some reflexology. She was very happy for her to try as long as Poppy was happy to have it – she was very interested. I made mum a cup of tea and settled Poppy onto the sofa – I wanted to make it as informal as I could to keep Poppy at ease.
Poppy settled into the treatment really quickly, saying how nice it felt, and before long she had totally relaxed, had stopped speaking, and had a glazed, far-away look in her eyes – a perfect representation of just how calm she was. As a reflexologist I prefer to treat the whole body, if possible, so I was thrilled to be able to manage a complete treatment on her little feet, and some extra work on her digestive system. I found the digestive system's reflex to be quite sluggish, and the small intestine and colon reflexes to be very crunchy. When poppy had had enough she came out of her daze and began to fidget, indicating that the session was over – and off she went to play. I showed Poppy's mum how to help Poppy at home by working the digestive reflexes, should she need to, and gave her a diagram charting the areas of the foot on which to work.
A few hours after Poppy had left, I received a very excited message from her mother. The message said that Poppy had just been to the toilet and had defecated, but what had excited her was that it had been pain free. Anyone who has ever been constipated will know that it can be very painful; the large intestine is a very efficient extractor of water, which is precious to our body, a commodity that the colon doesn't like to waste. The longer faeces is held within the colon, the more water is extracted from it, making it hard and often quite large. So this was great news for Poppy, her mum and for me.
Poppy's mum was able to help keep her daughter's constipation at bay using the simple reflexology chart that she had taken home with her. Poppy's mum felt incredibly empowered at being able to help her daughter, and Poppy responded really well and felt supported by this interaction with her mum. This led me to think that reflexology might be a beneficial tool for both parents and children, not only to develop natural health practices, but also to do so in an engaging, non-clinical family atmosphere.
From this experience came the first of my children's books, The Mouse's House, which aimed to promote sleep and ease anxiety and fear. Parents all over the world have been enjoying the story of Mouse making her house, and they and their children are learning a new way of caring for themselves.
The Mouse's House aimed to calm the body through the manipulation of the Solar Plexus reflex – a collection of nerves, including the autonomic nervous system, which we rely on to control our bodily functions. The repetitive return to Mouse's house in the story reinforces a subconscious release within this reflex, allowing the parasympathetic nervous system to switch on, via the Vagus nerve, settling the body into a state of relaxation and rest. This is why The Mouse's House is such a wonderful story for bedtime, or when a child is afraid or anxious.
The story acts as an introduction to Mouse and all her friends, as well as the Solar Plexus reflex and all the other reflexes I use in this particular type of therapy. It is a perfect first story to help parents grasp the basic concepts of reflexology.
My second book, Mouse's Best Day Ever, supports parents and children who are suffering from issues with teeth, digestive problems, and headaches and migraines. It is another story of friendship, collaboration and attachment to inspire our children to care for each other, their families and their friends. These themes are glued together by the practice of reflexology, which forms the basis from which these activities are performed.
I wrote Mouse's Best Day Ever in a similar style to its predecessor, but I aimed for a different outcome – it was created around a reflexology treatment for children with a specific condition. This is not meant in a medical sense, however – I offer no diagnosis information – and I must emphasise that I practice complementary therapy, not alternative therapy, and believe that this therapy should be undertaken alongside medical advice from your GP, not used in its stead.
In this story, I considered how a child might feel, and what could be happening to them if they were suffering from teething, tummy problems and headaches or migraines. I then created a treatment based on this information and a plot within the frame of the book's six reflexes and animals.
So, in Mouse's Best Day Ever I don't follow a repetitive pattern; I follow my own treatment plan. This allows the book to take more of a direct route, with a little repetition for specific reflexes which are related to the condition. Coming up with these stories is great fun, and the characters are really starting to come alive for me now.
What we are discovering through The Children's Reflexology Programme and the books is that, although parents are giving their children the reflexology story, children are also taking the initiative and sharing it amongst themselves. At a recent course one of my instructors reported that one of the children had said that she wanted to learn how to help her daddy when he had a headache, because he got them often. This shows that children are very quickly thinking about how they can transfer this learning into a practical and effective support mechanism for their friends and families. For any practitioner this is high praise, a development that gives me great hope for the future of this wonderful therapy as well as the future health of our children and our planet. Big changes start with small ideas, and I have found – through this therapy and these books – that once the mind is open it is hard to close it again.
Find out more at www.kidsreflex.co.uk.
---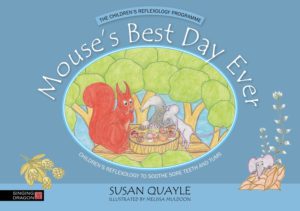 Title: Mouse's Best Day Ever

Author: Susan Quayle, Forewords by Spiros Dimitrakoulas and Sally Earlam, illustrated by Melissa Muldoon
Price: £9.99
ISBN: 978-1-84819-315-4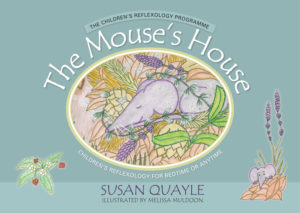 Title: The Mouse's House

Author: Susan Quayle, illustrated by Melissa Muldoon
Price: £9.99
ISBN: 978-1-84819-247-8