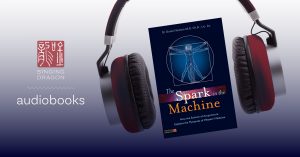 Our readers have asked and we have responded: we are proud to present the first Singing Dragon audiobook, The Spark in the Machine by Daniel Keown.
This immersive listen enables you to enjoy our best-selling title on the go, during a busy day of practice or on your commute.
The Spark in the Machine shows how the theories of Western and Chinese medicine support each other and how the integrated theory enlarges our understanding of how bodies work on every level. Full of good stories and surprising detail, Dan Keown's book is essential listening for anyone who has ever wanted to know how the body really works.
The audiobook is read by Gavin Osborn.
"It is surprising how little research has been done over the years to examine the relationship of acupuncture to Western medicine. Now at last we have Dr Keown's thoughtful and stimulating book to help fill this gap. Dr Keown talks from personal experience of working on both sides of this medical divide. His book is an invaluable contribution to helping practitioners of both disciplines understand how far they speak a common medical language, though they may express themselves in somewhat different terms." – Nora Franglen, Founder of the School of Five Element Acupuncture (SOFEA) and author of seven best-selling titles with Singing Dragon
---
Sign up to our mailing list to be the first to hear about our new releases, and receive news and fresh content from Singing Dragon authors each month.