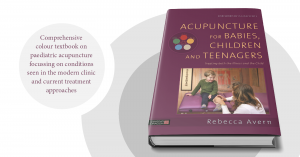 Before embarking on the enormous task of writing my book – Acupuncture for Babies, Children and Teenagers – I had to ask myself some searching questions. Does the acupuncture world really need another hefty textbook? And do I really want to devote every second of free time over the next two years to this project? It didn't take long for me to answer with a resounding 'yes' to both. Here is my thinking behind my decision to do it.
Many of the causes of disease in children in the 21st century that we see today are modern phenomena, or ones which have not previously been written about in the context of Chinese medicine. Children who come to my clinic may be ill because they are over-stimulated, there is strain in their family or because they spend too much time in front of a screen, for example. I felt strongly that it would help practitioners, and therefore the children they treat, to attempt to explain the impact on a child's qi of these modern causes of disease.
Most children who come for acupuncture treatment today do so because they have a chronic condition, such as a digestive disorder, eczema or headaches. Many of these are relatively new conditions that little or nothing has been written about in acupuncture literature, such as food allergies and intolerances. Some are conditions that are becoming more and more prevalent, such as early onset of puberty. I hope it will instil confidence in practitioners to have a text to refer to which discusses the treatment of these conditions in children.
A high percentage of children who come to my clinic – and especially teenagers – suffer from a psychological, mental or emotional condition, such as self-harm, anxiety, depression and eating disorders. Little had previously been written about any of these conditions for acupuncturists. It is my belief, based on my clinical experience, that acupuncture is a wonderful tool to support children and teenagers suffering in this way.
Acupuncture is a powerful treatment, not only for eradicating symptoms, but also for helping children to thrive. The World Health Organisation's definition of health is, after all, a 'state of complete physical, mental and social well-being, and not merely the absence of disease or infirmity.' The book has a strong focus on the Five Element approach to treatment, which is especially effective in this realm.
Another reason to write the book was that I knew from my clinical experience that practitioners need a wide range of tools with which to deliver their treatment to children. Relying on needles alone is not enough. I therefore wanted to write a text which described the use of a variety of treatment modalities.
My strong desire is that my book will mean that more practitioners develop an interest in, and a confidence to treat babies, children and teenagers. My practice is made up almost entirely of children now, and I see every day how much they benefit from acupuncture treatment. I believe that the more word gets out about how acupuncture is a suitable and effective form of medicine for children, the more children will benefit. And that has to be a good thing!
Click here to buy Rebecca's book, Acupuncture for Babies, Children and Teenagers
---
If you would like to read more articles like this and hear the latest news and offers on our books, why not join our mailing list? We can send information by email or post as you prefer, and please also tell us about your areas of interest so we can send the most relevant information. You can unsubscribe at any time.
---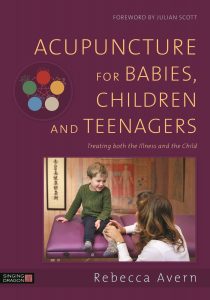 Acupuncture for Babies, Children and Teenagers: Treating both the Illness and the Child
Rebecca Avern, illustrated by Sarah Hoyle
This colour textbook enables acupuncturists to diagnose and treat physical and emotional ailments in babies, children and teenagers. It draws on the author's extensive clinical experience to provide solutions to a wide range of conditions including asthma, allergies, bedwetting, digestive issues, ADHD and depression.