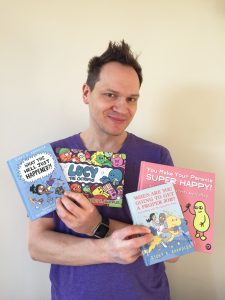 For National Stress Awareness Day 2018, Richy K. Chandler shares the story behind his latest picture book, What the Hell Just Happened?!. This inspirational gift book helps readers overcome troubling times in their lives, through vivid illustrations and positive affirmations.
The author provides thoughtful tips to remind us of what we can be at our emotionally strongest and smartest, showing how to face the past and embrace the future.

There are many reasons for creating a book, a comic or any work of art.
My latest book – What the Hell Just Happened?! – came from a place of needing to try to make sense of where I was in my life. At the start of developing it, I was going through a difficult separation, with my life circumstances drastically changing, seemingly out of control. I sought the release and comfort of expressing myself through creativity.
My assumption was that my anxiety and fear would come out naturally in tune. I've written hundreds of songs in the past and I always feel better for clarifying my feelings in verse. This time, however, that didn't seem to be happening.
Instead, words and images started to come together in my mind. The idea of someone falling with no control and no ground in site, grasping for anything to keep them from spinning. It seemed that a comic strip would be the medium to consolidate my thoughts and feelings, to break down what was going on in the big scheme of my life, and to try to clarify what needed to be done to steady myself and make progress to a better place.
Unlike a typical comic strip that I would draw to be read from left to right, the nature of this narrative –someone helplessly falling straight down – meant I started creating the strip moving from top to bottom along with the protagonist. Rather than dividing the strip into panels, the background of the entire strip is one long stretch of sky, with the central figure reappearing in motion through different points in space.
The every-person lead in my book is portrayed as a dark-skinned lady, both to push diversity and representation of female people of colour (see my blog, Creating Universal and Diverse Characters) as well as to sneakily avoid the autobiographical spotlight.
The dialogue between the falling person and the guiding voice flowed quite naturally while writing. Sometimes the best advice you can give yourself is just to sit and work out what you know to be true. I wanted the text to show the kind of comfort and reassurance that a best friend or trustworthy family member might give, which we often find harder to give ourselves.
This kind of text helps make What the Hell Just Happened?! a kind of sister book to You Make Your Parents Super Happy! which gives similar reassurance to children whose parents have separated.
Drawing What the Hell Just Happened?! was one of the most pleasant artistic experiences I've had. It's the first complete book that I've rendered the lifework for with my favourite medium – dip pen and ink – and there's nothing quite like feeling the nib on the paper, changing line weight with a slight change of pressure from my hand.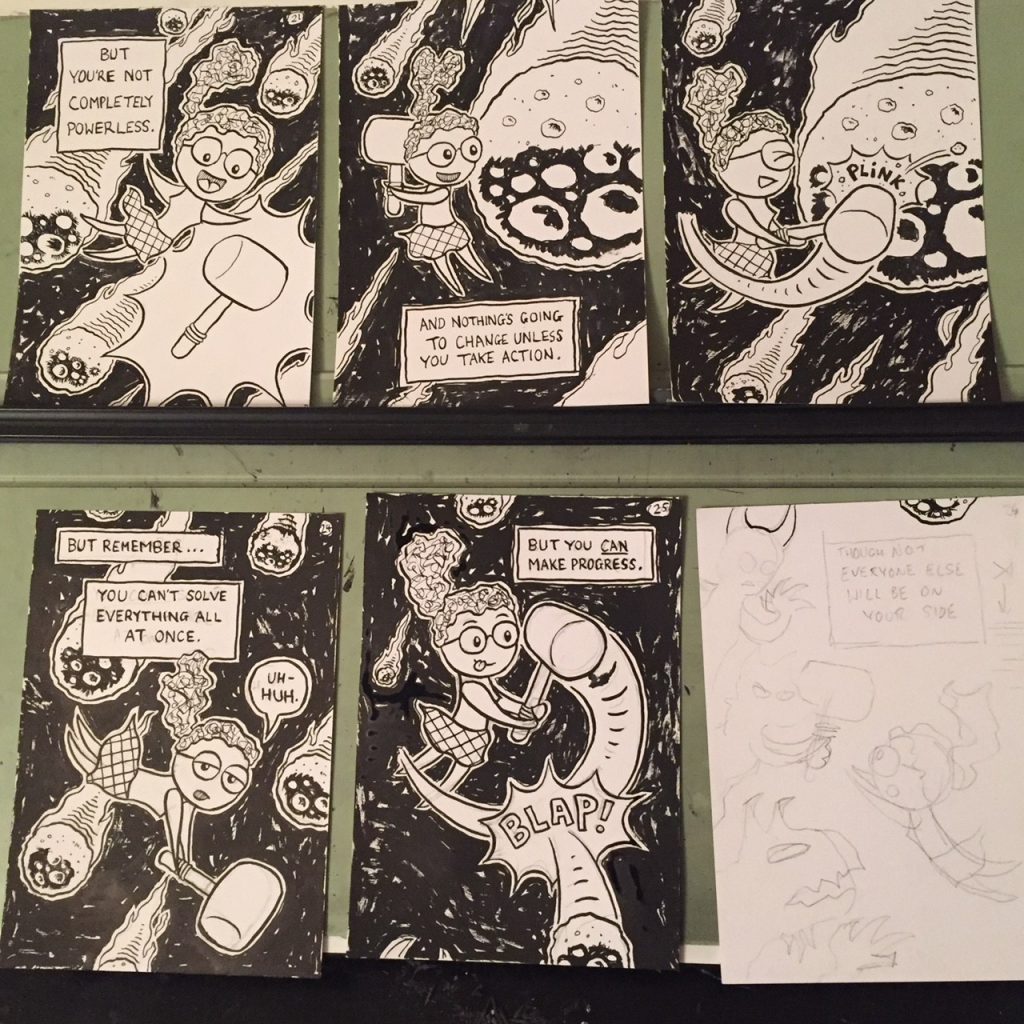 Colouring the book on Photoshop had some challenges. In order to keep the background to the pages flowing, I had to save many pages together as long, pillar-shaped files, which were a huge drain on my poor Mac's memory, taking ages to save. Hopefully none of the Photoshop stress was transferred to the reader.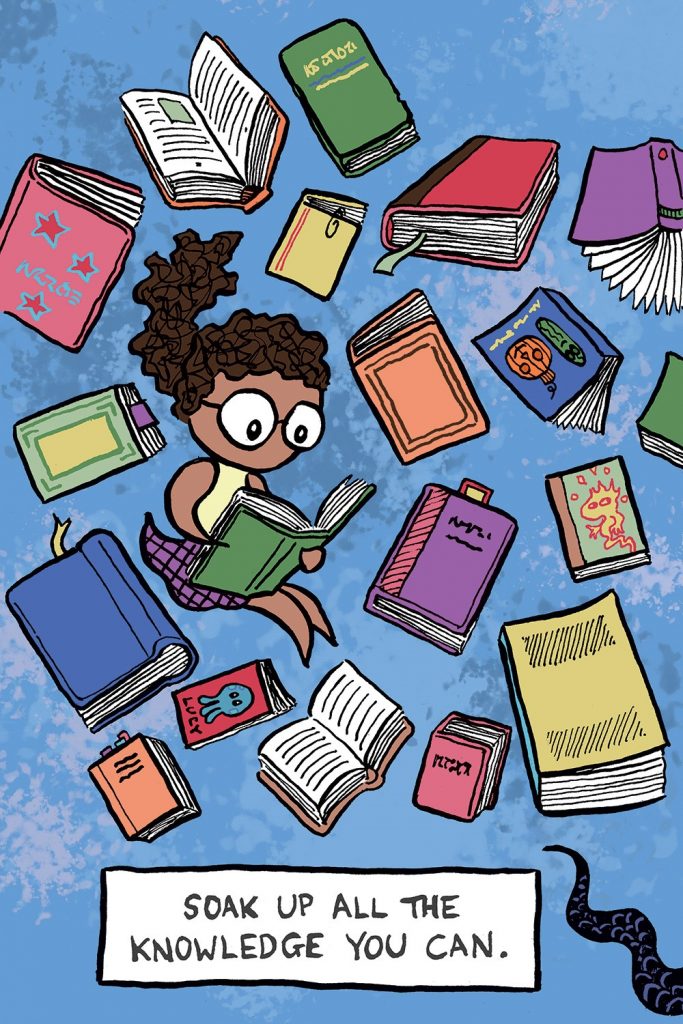 Instead, what I've noticed from people reading the book is that they get some sense of the release I felt in writing and drawing it. I love how art can work this way, and as with most of my work, I was conscious of making the book relatable to as many people as possible. Even though the starting point of my own feelings of panic and shock came from a separation, I wanted other readers to benefit, regardless of the types of hardships that had fallen on them – be it the loss of a job, failing an exam, or just being stuck in a frustrating rut.
Like all the best picture books for children, I hope adults can read and reread What the Hell Just Happened?! like a trusted friend, for comfort, reassurance, guidance and a bit of a pick-me-up.
---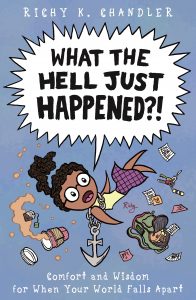 What the Hell Just Happened?!
Comfort and Wisdom for When Your World Falls Apart

Richy K. Chandler, illustrated by Richy K. Chandler
Is something that happened to you weighing you down? If so, this picture book for adults is the pick-me-up you need. With Richy K. Chandler's artistic flair, warmth and humour, it shows how to face the past and embrace the future, providing pragmatic advice about how to get back on your feet.