We are very sorry that our last live contributor, Aggie Stewart, won't be able to share her live session with you today. We wish her the very best and hope she feels better soon! To ensure that she is still part of the Summit, we share a short extract from Aggie's new book, 'Yoga as Self-Care for Healthcare Practitioners'. We do hope you enjoy it.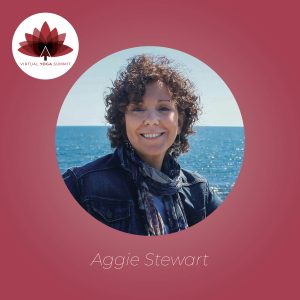 Self-care is never a selfish act—it is simply good stewardship of the only gift I have, the gift I was put on earth to offer others. Anytime we can listen to true self and give the care it requires, we do it not only for ourselves, but for the many others whose lives we touch.
Parker J. Palmer
This is a challenging time to be a healthcare professional. Whether in education and clinical training or in professional practice, major aspects of the healthcare education and delivery landscape present inherent and well‑documented risks to the health and well-being of students and practitioners.
Currently, the effects of the epidemic of burnout and self-harm, blunted empathy, compassion fatigue, absenteeism, and attrition are being felt across the health professions. Research into the factors underlying the current state of practitioner wellness indicates that, for many, signs of burnout and its related consequences emerge during the education and training period and go unattended as graduates step into professional life.
As the healthcare professions grapple with the range of environmental and cultural issues that contribute to the current state of practitioner wellness, self-care has emerged as a pressing need for both students and practitioners. Broadly defined, self-care encompasses the ability to recognize and respond in an appropriate and positive manner to one's needs on all levels: physical, energetic, mental, emotional, and spiritual. Increasingly, health professional schools, healthcare settings, and health professional associations are providing education on the importance of self‑care on all these levels along with training on specific aspects of selfcare, such as diet, exercise, finances, and activities that support self-care, such as yoga and other mind–body–spirit practices. Continue reading →