As part of our Meet The Singing Dragon Author series, we speak to authors to discuss their motivation for entering their respective industries, inspiration for writing their books, what challenges they faced and to whom they would recommend their books. Is there a specific Singing Dragon author you would like to hear from? Let us know in the comments or join the conversation using #MeetTheSDAuthor.
How did you become interested in paediatric acupuncture?
I began treating children twenty years ago and was immediately struck by how quickly they responded to treatment. When I had my own children, I became more and more aware of how many young people are struggling either with their physical or psychological health, or are simply not thriving. I realised that many of the issues they were struggling with were well suited to being treated with acupuncture. I love working with children and it has become my mission in life to enable more of them to receive acupuncture treatment, by writing and teaching about it.
How did you begin your career and were there any challenges in entering this field?
My paediatric acupuncture career evolved naturally over time, as I found more and more children coming to my clinic. I consider myself very fortunate to have had some of the best acupuncture teachers. Julian Scott has had the biggest influence on my paediatric practice. A few years ago, I made the decision to reduce my adult practice so that I could focus almost solely on children. I found I was turning children away and there was nobody else around who treated them.
There are, of course, challenges with working with children. Some are nervous of coming and wary of acupuncture needles. But in nearly all cases, they end up enjoying their treatments and looking forward to them. It's always important to reassure the parent, as the child will follow the parent's lead.
I think the biggest challenge is that many people assume acupuncture is not a suitable therapy for young people, which could not be further from the truth. I hope that my book will encourage more practitioners to treat children, and that in turn will mean that more parents get to hear about it as a powerful yet gentle form of medicine for their children.
What did you enjoy about writing the book?
I loved it! I took two years to write the book. During the first year, I just churned out the words and got all my thoughts down on paper. I spent the second year crafting it into the final, polished product. I don't think I realised how much I had to say before I began writing and sometimes surprised myself by writing things I didn't really know I knew! One of my main objectives was to make the book feel alive and related to what it is really like treating children, rather than just pages of theory. I very much hope I achieved that.
The only thing that was challenging was finding the time. I was seeing a lot of patients, teaching and, most importantly, looking after my own two children while I was writing it. But I became very good at using my time well. The phrase 'if you need something doing, ask a busy person' really is true!
To whom would you recommend the book?
The book is written for acupuncture practitioners who are already treating children or those that would like to. It is also for acupuncture students who are studying paediatrics as part of their initial training.
---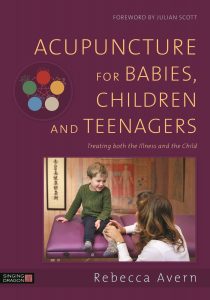 Acupuncture for Babies, Children and Teenagers
Treating both the Illness and the Child
Rebecca Avern, illustrated by Sarah Hoyle
This colour textbook enables acupuncturists to diagnose and treat physical and emotional ailments in babies, children and teenagers. It draws on the author's extensive clinical experience to provide solutions to a wide range of conditions including asthma, allergies, bedwetting, digestive issues, ADHD and depression.
---
Is there a specific Singing Dragon author you would like to hear from? Let us know in the comments or join the conversation using #MeetTheSDAuthor.
Join our mailing list to be the first to hear about our newest releases.