As part of our Meet The Singing Dragon Author series, we speak to authors to discuss their motivation for entering their respective industries, inspiration for writing their books, what challenges they faced and who they would recommend their books to. Is there a specific Singing Dragon author you would like to hear from? Let us know in the comments or join the conversation using #MeetTheSDAuthor.
How did you become interested in yoga therapy and aromatherapy?
I became interested in aromatherapy in the early 90's and have studied it ever since. I have long been drawn to essential oils for therapeutic, emotional and spiritual uses. I began taking yoga classes around 1999 and after a year, decided to take a teacher training and it was life changing. It brought together all the aspects of spiritual life that I had been seeking for years, one that addresses humans as whole beings—physically, emotionally, energetically, spiritually. As a psychotherapist, I was able to bring the principles and teachings of yoga into my practice with clients and can see the effectiveness not only of asana (poses), meditation and breathwork, but also how the philosophy and ethical underpinnings of yoga support and create change. The essential teaching of yoga is wholeness and that our true nature is and has always been whole, that we can be no other way. Life, pain, grief, heartbreak, challenges, cause us to forget our essential wholeness, but all the teachings and branches of yoga remind us of this truth.
How did you begin your career and were there any challenges in entering this field?
Initially, I was working in a retail setting, trying to finish my undergraduate degree in English literature, and needed extra money so I started working part time as a direct care worker in a school for children with autism and other developmental disabilities, but who were also dealing with severe emotional and behavioral difficulties. I happen to be one of those people who is naturally good at that kind of work, which I never would have known. I decided to become a psychotherapist because of my work with those kids, teens and adults as well. As I grew into my own as a therapist, I began adding adjunct, alternative therapies to my work—yoga, aromatherapy, energy work. I also became a certified yoga therapist as well as a yoga teacher. The challenge I have faced in the field of psychotherapy and counselling, is that theories on energetics and the subtle body are not generally taught to students, and due to the Western medical model, are often dismissed. It is very difficult to help people without seeing the whole person. We are more than our mental bodies—we are physical, emotional, energetic, and spiritual beings. When my own son died in 2006, my entire life was altered, to say the least. All the things I am trained in also eventually became my own support—yoga, aromatherapy, meditation. Over time, I was able to integrate these into a specialty in traumatic grief. That was not a path I sought but one I found myself on. I realized that I was in a position to be able to support others on the same road and I feel that this is also a way of making meaning and remaining connected to my child. This kind of work cannot be done without addressing the whole person—body, mind, emotions, energy, spirit.
What did you enjoy about writing the book?
This book grew from the Tantra yoga chapter of my book Yoga for Grief & Loss, also published by Singing Dragon, but the amount of information I wanted to share could never have fit into one chapter, so this book was born during the writing of the other. The process of engaging with the complexity of the chakras, and writing about them in this way, was an extraordinary experience—which I hope translates to an extraordinary experience for the reader! There is not a lot of information out there on this particular topic available for research, so I had to learn from my own experiences and in-depth exploration of the chakras. It often felt as though the information was being revealed to me. The experiential aspect of diving into the depths of each of these energy centers, was profound. The writing of each chapter was an exploratory expedition into each one of the chakras. I was able to achieve a functional trance-like state even as I wrote meditations and prompts, imagining and seeing the energetic layers of each of the exercises and how they support the reader through an individual journey through the subtle energy of your own system. It was pretty cool.
To whom would you recommend the book?
This book is for any reader interested in alternative methods of finding support and a path for moving toward wholeness even in the midst of grief and trauma. I think readers will find the information novel, but also very familiar, because they will have experienced much of what the book shares on energetic, emotional, physical and spiritual levels. The book is for anyone with an interest in alternative, gentle, non-invasive and non-harming ways of dealing with trauma, pain, heartbreak, grief and loss. It is also beneficial for counsellors and therapists, yoga teachers, yoga therapists, and energy practitioners including practitioners of traditional Chinese medicine, acupuncture, herbalism, aromatherapy, acupressure and body work—anyone who works with grieving and traumatized people.
---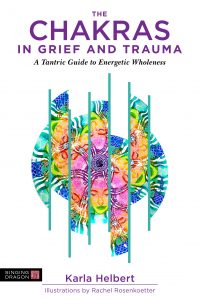 The Chakras in Grief and Trauma
A Tantric Guide to Energetic Wholeness
Karla Helbert
This innovative guide to the chakras explains how grief and trauma impacts on every level of our being, and provides the tools to help clients experiencing trauma and grief by influencing, balancing and nurturing the chakra system. The book provides thorough and clear explorations of each chakra, their connections to each other, and tantric ways of working with energy. It features over 100 expressive and experiential exercises.
---
Is there a specific Singing Dragon author you would like to hear from? Let us know in the comments or join the conversation using #MeetTheSDAuthor. Or join our mailing list to be the first to hear about our newest releases.