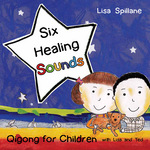 Lisa Spillane is the author and illustrator of the new book, Six Healing Sounds with Lisa and Ted: Qigong for Children, which teaches young children how to transform negative feelings into positive ones by using simple breathing techniques that are based on ancient Chinese Qigong exercises.
Using a special sound for different parts of the body, Lisa and Ted show that a "haaaww" can heal the heart and blow away impatience, and a "whooooooo" can steady the stomach and chase away worries.
In this video, Lisa demonstrates each healing sound from the story so that parents, teachers, carers and children can make sure they're getting the most from them.
Click below to see how it's done!
[youtube]pE_FCn3fiaQ[/youtube]
---
Lisa Spillane qualified as a teacher of Art and Design at the National College of Art and Design (NCAD) in Dublin, Ireland. She also has a master's degree in Education and is a co-founder and former Director of Artlink Ltd., a charitable company promoting access to art in the North West of Ireland. Having taught at a number of schools, Lisa went on to work for several years in Northern Ireland on community projects with children and young people. She learned Qigong meditation from attending classes taught by Grandmaster Mantak Chia. Lisa currently lives in Brussels, Belgium.
Copyright © Singing Dragon 2011.