Excerpted from the Introduction to Chinese Shamanic Cosmic Orbit Qigong – Esoteric Talismans, Mantras, and Mudras in Healing and Inner Cultivation by Master Zhongxian Wu.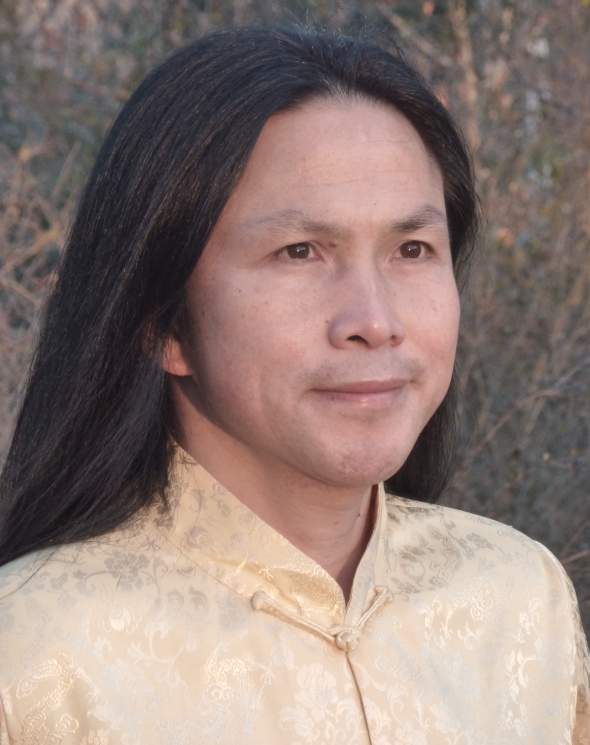 The Shamanic Root of Qigong 气功
When I was a child in China, I was curious about the way that the local Wu 巫 (Chinese shaman) would give treatments to patients. How could an acupuncture needle release the pain when the Wu placed it in a suffering patient's body? How could chanting, meditation, and use of talismans help patients recover from illness? Although I gathered more knowledge about the principles of Chinese medicine as I grew up, I did not get answers to my questions during my childhood. Ever inquisitive, I sought the answer to more questions: What are meridians? What are acupuncture points? Where did this knowledge come from? How did this intricately layered system of medicine develop? Through decades of dedicated Qigong and self-cultivation practices, I gradually found the answers to these questions. As my practice of ancient Chinese wisdom techniques deepened, I began to understand that ancient Wu 巫 (Chinese Shamanism) is the root of all Chinese culture.
In ancient China, shamans were respected as sages, or enlightened beings who understood the way of nature and how it related to human beings. Ancient Chinese shamans considered human beings as the precious treasure residing between heaven and earth. How then, does one protect this precious life? Through study and observation of the Universal way, the ancient Chinese sages realized that achieving harmony in the body is possible when a person follows the balancing principles of the universe in everyday living. With living in harmony as the final goal, the ancient shamans created an ancient life science system designed to keep the physical body, the mind, and the spirit healthy. Today, we know this ancient life science system as Qigong 气功.
Choose A Beneficial Qigong Form
The term of Qigong made with two Chinese Characters: Qi 气 and Gong 功. In English, Qi translates conceptually as vital energy, vital force, or vital breath, while Gong translates as working hard in the correct way. In general, Qigong 气功 means Qi cultivation. Any movements, postures or activity done in a conscious relationship with Qi can be called Qigong. If you are not yet aware of the Qi flowing through and around your body, you can cultivate this consciousness through correct traditional Qigong practice, and develop a better understanding of the internal and external Qi network.
Qigong is a way of cultivating knowledge and a method of practice that should be learned through correct and careful guidance and through personal experience. You will feel it is easier to merge the principles of your Qigong practice into your life and to feel its powerful effects if you have the support of an experienced teacher to guide you. People often ask me what kind of Qigong form will be suitable for them. I always suggest that they choose a traditional style of Qigong, one with deep cultural roots that has proven to be authentic over centuries of practice.
Chinese Shamanic Cosmic Orbit Qigong
Three of the essential practices of Chinese Shamanic Qigong are the Fu 符 (talismans), Jue 訣 (mantras), and Yin 印 (mudras). Talisman, mudra, and mantra are specific rituals common to ancient shamanism. In my tradition, we still preserve and utilize many special talismans, mantras, and mudras as specific techniques for cultivation and healing/self-healing. Fu (talismans) are Qi (vital life energy) energized diagrams, symbols, or Chinese characters used to channel a vital energy in order to create a harmonious Qi field for healing or living. Jue (mantras) are special syllables, spells or sounds used spontaneously to resonate with Universal Qi and to circulate the Qi within the energy network through the vibrations created by your voice. Yin (mudras) are ancient hand positions used to connect with universal energies and act as a vehicle to access ancient wisdom of the Universe that is bound within the body.
Chinese Shamanic Orbit Qigong is a time-honored, esoteric style of Qigong, which focuses on cultivating internal Qi circulation and attaining enlightenment. Ancient shamans discovered that the energetic patterns of nature are reproduced in all levels of the cosmos, from the largest, macrocosmic (Universal level) scale to the smallest, microcosmic (living organisms and the cells, organelles and particles within them) scale, they deduced that the flow of Qi in the body is just like the ceaseless rotation of the sun, moon, and stars. Therefore, in Qigong terminology, orbit refers to the Qi circulation in in the body. The fundamental concept of balance in Chinese wisdom traditions holds that you will maintain health and experience well-being if Qi is free flowing in your body.
My new book, Chinese Shamanic Cosmic Orbit Qigong, illustrates the details of the Shamanic Orbit Qigong practice, including talismans, mantras, mudras, movements, visualizations, and therapeutic benefits. I hope you will enjoy this book and gain great benefits from your daily practice.
---
Master Zhongxian Wu is the recognized master of multiple lineages of classical Qigong, Taiji and martial arts. He has been teaching unique and professionally designed courses and workshops to beginning and advanced practitioners, as well as for patients seeking healing, for over 25 years. In addition to Chinese Shamanic Cosmic Orbit Qigong – Esoteric Talismans, Mantras and Mudras in Healing and Inner Cultivation, he is the author of The 12 Chinese Animals – Create Harmony in Your Daily Life Through Ancient Chinese Wisdom; Seeking the Spirit of The Book of Change – 8 Days to Mastering a Shamanic Yijing (I Ching) Prediction System; Hidden Immortal Lineage Taiji Qigong: The Mother Form; and The Vital Breath of the Dao – Chinese Shamanic Tiger Qigong. He and his wife, Dr. Karin Taylor Wu, live in the foothills of the Blue Ridge Mountains of central Virginia, USA, and together founded Blue Willow Health Center. You can find more details about his teachings at www.masterwu.net.
Copyright © Singing Dragon 2011.