Julie Dunlop, author of Ocean of Yoga: Meditations on Yoga and Ayurveda for Balance, Awareness, and Well-Being shares tips on breathing calmly amidst holiday stress.
Are you one of those people who tries to "get through" the holidays? What would it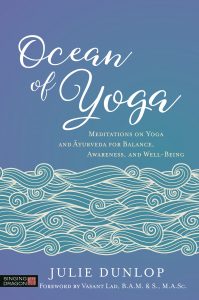 take for you to shift to "moving through" the holidays or "experiencing" the holidays rather than just trying to get through them? Although the difference in this wording is somewhat subtle, it can be significant as we shift from survival mode into a more holistic acceptance of the process of being present—mind, body, and soul—for the holidays.The glow of Christmas trees, menorahs, and Diwali candles, along with many other images and traditions from richly diverse cultures, light our way through the holidays each year. Along with the beauty of holiday decorations and celebrations, however, often comes a fair amount of stress. This could be financial stress or the stress of physical exhaustion from simply trying to keep up with all of the extra events. It could also be emotional stress due to an injury or illness, challenging family dynamics, or grief from the loss of a loved one. Pause for a moment and check in: On a scale of 1 to 10, what is your current stress level? Breathe. Look around you. Then, look within. Is there any crisis taking place in the current moment, or is the stress generating from within? Feel the soft rhythm of your inhale and exhale washing through you with grace.