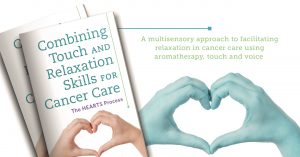 A multisensory approach to facilitating relaxation in cancer care using aromatherapy, touch and voice, the HEARTS process – created by Ann Carter – offers a new way to help patients achieve a state of relaxation and calm as quickly and easily as possible.
In their new book, Combining Touch and Relaxation Skills for Cancer Care, Ann Carter and Peter Mackereth discuss principles which may influence the effectiveness of touch and relaxation therapies, emphasising that there are approaches that can be learnt and utilised by healthcare workers (and carers) who are not qualified in any therapies when working with distressed and vulnerable patients.
Massage, aromatherapy, reflexology and a variety of relaxation techniques are frequently used in hospices, supportive care settings and some hospitals, however, there are still gaps and limitations in the choices offered to patients. The HEARTS process (Hands-on, Empathy, Aromas, Relaxation, Textures, Sound) was devised to bridge this gap for complementary therapists, patients, carers and health care professionals. It can be used either on its own, or integrated with a conventional complementary therapy.
Read an extract from the book, in which Marianne Tavares interviews Ann Carter about HEARTS, what influenced its development and what the future might hold for the process.
Click here to read the extract.
---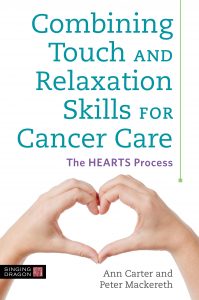 Combining Touch and Relaxation Skills for Cancer Care
The HEARTS Process
Ann Carter
Assistant Author: Peter Mackereth
RRP: £19.99
Buy the book
---
Sign up to our mailing list to be the first to hear about our upcoming releases, news and events, and receive our monthly newsletter packed with fresh content from authors.