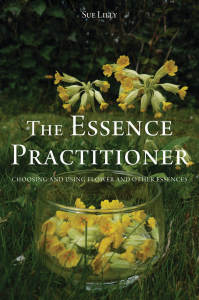 by Sue Lilly, author of The Essence Practitioner: Choosing and using flower and other essences
Many of us visit practitioners if we want essences, but some of us have our own essence collections and need effective ways to choose essences for personal use. For essence practitioners for instance there is always the question of how to best choose essences for yourself. Choosing for oneself is always an interesting exercise: trying to overcome the biases of our conscious mind and our underlying unconscious predilections so that we can actually choose essences that can be helpful for more than just superficial issues.
The traditional method of choosing, often called 'pattern matching' or the 'logical method', compares the qualities of the essences, as described by a producer or author, with the symptoms, emotions or thoughts that are being experienced. Depending on what has been written about an essence it may be possible to make a choice for an aspiration or a final goal. The advantage of this method is that anyone can work in this way. The disadvantage is that it relies on the capability of the individual to be able to identify – or reflect on – personal symptoms, emotions or thoughts without being influenced by his or her own judgment.
Moreover the descriptions of essences are limited to what the producer or author has written. No matter how many carefully written words, it is only going to describe a fraction of what the essence is capable of doing when interacting with a person or an animal. So this method of choosing essences for their own personal situation has limitations.
Another method of choosing essences for oneself is by pendulum dowsing or self-testing (muscle-testing). However, unless precautions are taken, the accuracy of these methods can be undermined and over-ridden by the conscious and unconscious parts of the mind. The power of these areas of our being can influence those choices that are often accepted gratifyingly by the conscious mind, as these choices appear to confirm our dominant beliefs and wishes. The types of steps that need to be taken to improve accuracy are grounding, or anchoring, personal energies and centring personal energies. Grounding can be simply imagining roots growing out of the feet, deep down into the Earth. Being dehydrated or very hungry can impair the ability to ground personal energies and to keep a good connection with the planet. The simplest way of centring is by 'tapping in'.  Here the person does a firm, light tapping with the fingertips on the area of the upper chest just below where the collarbones (clavicles) meet the breastbone (sternum). This is the approximate placement of the thymus gland, an important maintainer of the subtle energy balance in the body. Whilst the thymus is being tapped, the other hand is placed palm open, over the navel. This allows the centring effect to last longer.
The methods above are adequate for choosing essences for oneself, but it is very useful, when treating someone close to you emotionally, to have a few more methods that can also divert the conscious mind and the other dominant areas of the brain.
Here are some examples. Make a list of numbers that correspond to the number of essences you have available. Then enter the name of those essences randomly to create a list. With the situation you want help with in mind this list of numbers can then be dowsed or muscle-tested for help with a particular personal issue without the list itself present and without input from the conscious mind. Personally I find this method works really well. The emerging essence or essence combinations brings surprising good results.
Another method is to create some small cards and write the name of an essence on each one. Then, placing them face-down, with the situation you want help with in mind, choose from the cards.
It could be easy to dismiss methods like these as having no use. However, it is easy for our conscious minds to ignore or belittle the depth of knowledge within us, and the access to knowledge of which our unconscious mind is capable. After all, our conscious mind is in charge, isn't it? If we really want to get to the underlying causes of ill health, remove sabotaging thoughts or release toxic emotions we have to go beyond our everyday levels of consciousness and find ways to access the vast storehouse of knowledge of our unconscious mind.
When working as a practitioner, with a client, it is easier to stay detached and thereby have easy access to deep levels of consciousness. However, when working on ourselves or on those close to us, it is almost impossible to gain a similar level of detachment using methods we would use for clients.
I would suggest trying the 'number' or 'card method' without expectation and indeed, maybe with a playful approach for issues you want to resolve for yourself and see what happens!
Sue Lilly is the author of The Essence Practitioner: Choosing and using flower and other essences, she has been involved in many aspects of healing for over thirty years. She has a wide ranging experience as a therapist and  teacher – Flower Essences, Crystal Therapy, Astrology, Yoga, Meditation, Colour Therapy, Nutrition, Spiritual Development and Counselling. Sue is a qualified teacher and holds a Diploma in Clinical and Creative Supervision. She is an Advanced Practitioner and Tutor with the British Flower and Vibrational Essences Association (BFVEA), the Secretary of the British Association of Flower Essence Producers (BAFEP), joint Life President of the Affiliation of Crystal Healing Organisations (ACHO) and joint chair of the Japanese Crystal Healing Institute (JCHI). She has developed and produced Sovereignty Essences which complement the Green Man Essences created by Simon Lilly in 1991. She lives near Llangammarch Wells, Powys, Wales, UK.