Summer begins in early May according to the lunisolar calendar. Both the lunar phases and the solar year are combined in this traditional calendar used in many Asian cultures. Seasons are determined by the amount of sunlight striking a particular region of the earth. The months of May, June and July have the greatest amount of solar radiation in the northern hemisphere with the summer solstice being the midpoint of the season. Therefore, to get maximum benefit, we should begin our summer qigong practice in early May 2015.
Excerpt from Qigong Through The Seasons by Ronald H. Davis:
"Summer energy urges us to get moving. We want to be outside more often, we wear fewer clothes, and are in closer contact with nature. We like to spend time in joyful physical recreation and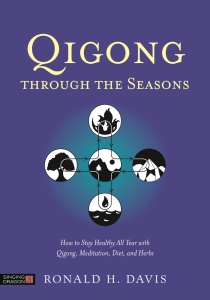 gatherings with friends. Summer stimulates creativity, which we may express with building projects, designing gardens, making music, art objects, and party decorations—anything that gives us warm pleasurable connections to people and outdoors adventures. During this season of splendor and shining fire, the energy of nature grows outward with color, warmth, and radiance. Now our Spirit comes alive with expansive awareness; it wants to make intimate contact with all the elements of heaven and Earth.
During the Fire Phase we feel that our Heart Qi, which was fueled by the Rising Yang Qi of spring, has come into full bloom with expressions of joy, compassion and a mysterious yearning for divine contact. The exuberance of fire, when controlled and cultivated, can be refined and directed toward the ultimate purpose of being human: spiritual awakening. However—if not properly harnessed—the great blazing of summer's Supreme Yang Qi can scorch our Heart and mind. Summer Qigong practice will show you how to feed the Heart Network without getting burned."
Qigong Through The Seasons presents a complete program of qigong exercises, specific meditations, foods, and tonic herbs that will keep you naturally healthy during the exciting summer season. Based on the author's thirty years of clinical practice, personal training, and public teaching, this fully illustrated book will show you how to harmonize with the ever-changing energy of the natural world.