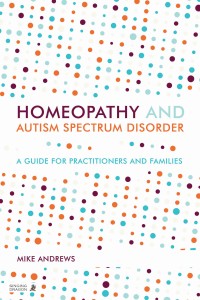 The rewards of using homeopathy with Autism Spectrum Disorder – by Mike Andrews
I have been practicing as a professional homeopath since 1990. I have an open door policy to referrals and most clients self refer to me. In the past I have had a special interest in working with clients with fertility problems, skin conditions and asthma.
I have over the years worked with many children, and their parents, with ADD, ADHD and Autism Spectrum Disorder. I find working with ASD children particularly rewarding as the changes that I have seen homeopathy bring about in their and their parents lives is immensely heart-warming.
As is common in the Autism community when parents find something that benefits their child they tell other parents about it. This is how my Autism practice has grown. The changes can be so obvious that other parents will ask 'What you have been doing to help your child so much?'
The changes can be most observable in social skills in public, the changes that go on 'behind closed doors' are often dramatic in terms of improved family relationships, eating a wider range of foods and less repetitive or aggressive behaviour.
In my book Homeopathy and Autism Spectrum Disorder I wanted to look at the types of results homeopaths around the world were achieving and to see how they compared with my experience. Many positive small cohort studies have been published. I refer to these studies in the book and also chose to interviewed colleagues from around the world.  Homeopaths working in Australia, the US, Israel, India and the UK contributed generously to the publication.
Nutritional approaches or biomedicine are often the first step that parents take in to non-conventional medicine when they are dissatisfied by state provision of services. Myself, and other homeopaths, have found that significant further gains can be made even for those children that have been following a dietary regime and supplementation program for some time. Observing a seven year old boy, who had been on a nutritional program for a year when his parents first consulted me, significant cognitive and motor skill improvements followed the introduction of a homeopathic remedy. His nutritionist then suggested stopping the old program, and various tests, before starting a new revised program; at this point the child's tantrums increased although other gains were maintained. He was then prescribed a different homeopathic medication which helped him greatly even before he started the new nutritional supplements.
Homeopathy is very much an individualised treatment modality which is both its strength and its weakness. Being so individualised it is hard to fit homeopathic treatment into conventional research protocols and it is difficult to give advice for self treatment. However with a choice of over 3500 homeopathic medicines to choose from the child, or indeed adult, with ASD can receive a remedy which takes full account of their individual characteristics and symptoms. Homeopathic treatment is not about de-toxing, although that can be part of the treatment plan, but more a holistic treatment. Homeopathy views everyone's symptoms, whether autistic or not, as a dynamic whole mind-body disturbance and they are treated with a dynamic homeopathic remedy. Homeopathy works with the 'vital' force', Chinese traditional medicine with the 'chi'. The exact mechanism of homeopathy is still not fully understood, although it probably lies in the realms of quantum physics. Reading my book will give you as a parent or career for someone with autism, or a professional working with families, a good understanding of homeopathy and the results that have been achieved if you work with a properly qualified and registered Homeopath.
Mike Andrews DSH RSHom graduated from Misha Norland's School of Homeopathy (UK) in 1990. He has taught at many UK homeopathic colleges: London College of Classical Homeopathy, Purton House School of Homeopathy and on the BSc (Hons) Health Sciences: Homeopathy module at the University of Westminster. He has been in full-time homeopathic practice since 1990 and has been a Registered Member of the Society of Homeopaths since 1994. He practiced in West Sussex for many years, but now works in London and Ludlow, Shropshire. Over more than twenty three years in practice, he has worked with many children and their parents, giving him a good practical understanding of child development. He has worked with children with diagnoses of dyspraxia, dyslexia, ADHD, ADD, Asperger's and Autism. He is the author of Homeopathy and Autism Spectrum Disorder