In this chapter, Ged Sumner offers up a fascinating account of how the human body works in relation to the skin, and other collagen constructs of the body. He provides us with a meditation that allows us to feel every inch of our skin wrapped around our body and feel the wholeness of the organ.
 Read the extract…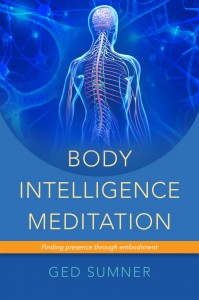 This meditation is taken from Body Intelligence Meditation: Finding presence through embodiment by Ged Sumner. The book is available to purchase from the Singing Dragon website.
Contents include:
Preface. 1. What is Real? 2. Felt Sense Awareness. 3. Dynamic Stillness. 4. Peace and Autonomic Order. 5. The Amazing Connective Tissue System. 6. Diaphragmatic Wholeness. 7. Breath and Life. 8. Inner Volume and Depth. 9. Fluid Body and Bliss. 10. Being Centred. 11. Embryonic Mind. 12. Internal and External Circulation. 13. Inner Cell. 14. Hormonal Space. 15. Brain Balancing. 16. Life Continuum. 17. Integration.
Click here to listen to this meditation online