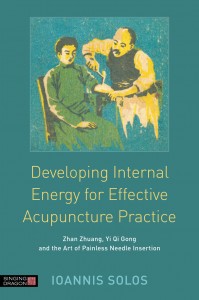 Making your acupuncture sessions unique, personal and amazing – by Ioannis Solos
As acupuncturists, we all wish to provide quality treatment and patient satisfaction, and each time a patient praises our healing abilities it reaffirms our belief that we are doing something right.
However, what makes a patient happy is not always our level of competence in meridian diagnosis, but also various interpersonal and esoteric skills that some tend to identify and cultivate better than others.
In this article, I will speak about the patient-doctor connections as described in the classical theories of Chinese acupuncture.
According to the early Confucian traditions, when doctors exercise compassion and benevolence, they can become not only successful healers but also restore faith in the medical field. This is why a doctor-scholar should embark upon a meticulous study of the classics, and as Chen Shi Gong advised: "learn the contents by heart and understand them with the eyes".
The Confucian ideas about benevolence, compassion and seeking deeper understanding, were also evident in the early theories of Chinese acupuncture.
One of the central and most esoteric concepts in Chinese Medicine is the theory of "Controlling the Spirit".
The term "Controlling the Spirit" or "Zhi Shen" [治神] is made up of two characters, zhi 治 and shen 神. The character zhi in this term is used in the context of control and recuperate. The character shen is made up of two parts: the radical shi 礻, which means worshiping; and the character shen 申 that stands for the ninth earthly branch, meaning "to extend" or "to expand." In the oracle bones, the most ancient version of the character shen appears as depicting a man and a woman having sexual intercourse. The same character is also included within the character dian 電 for lightning, as the outcome of the "intercourse" between heaven and earth. This sense of "closeness," "intimacy "and "connecting" is perhaps one of the most beautiful concepts of our medical tradition, although it should always be followed by the rules of etiquette and propriety.
Building and maintaining a positive doctor-patient therapeutic relationship is vital for healing and re-balancing. This is not only important in the social sense but also for therapeutic synchronization and treatment management. Timid and difficult patients are sometimes hard to treat. Helping them to relax, focus and take part in the treatment ritual is an art. However, this is also something that many need to re-discover, explore and apply with creativity and a sense of responsibility. Tailoring your approach in accordance to the needs of each patient will certainly ensure the positive outcome of each acupuncture session.
In the classic Chinese Medicine literature we read:
Therefore, when using the needle, one should examine and observe the patient's bearing (i.e. posture and movement), and identify if the essence (jing), spirit (shen), ethereal soul (hun) and corporeal soul (po) are preserved or lost. If the five [spirits] have already been injured, acupuncture will be unable to provide treatment. (Ling Shu—Ben Shen)
If using acupuncture to treat, you should assist the [patient's] spirit to focus and then needle. [This procedure does] not only [apply] for needling but [you should] also allow the [patient's] spirit to become stable before moving the qi. If the spirit is out of focus, then don't needle. If the spirit is stable you can treat [by both needle and moving the qi]. (Biao You Fu)
When needling, the patient's spirit qi must be stable (focused), and his breathing even. The doctor should also do this (i.e. focus and adjust his breathing), and not be hasty. (Zhen Jiu Da Cheng)
In my new book Developing Internal Energy for Effective Acupuncture Practice, I tried to explain various ancient ideas that are rarely clarified in the current TCM literature, alongside a rigorous training regime.
Cultivating your overall health, increasing your spiritual awareness and making the right energetic connections with your patients will certainly enhance your understanding of the medical art and open your eyes to a much larger world.
Ioannis Solos studied Traditional Chinese Medicine at Middlesex University and the Beijing University of Chinese Medicine. He enjoys researching, teaching, practicing and critically interpreting the ancient philosophy and culture of China, internal martial arts, health preservation practices, classic medical texts and lesser-known Chinese esoteric traditions. He is the author of Gold Mirrors and Tongue Reflections and the new book Developing Internal Energy for Effective Acupuncture Practice: Zhan Zhuang, Yi Qi Gong and the Art of Painless Needle Insertion.