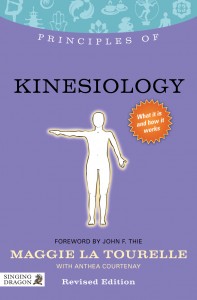 In this extract, the authors describe the early development of Kinesiology, and the unexpected discoveries which informed the basis of many branches of the practice. They also look at how Kinesiology fits within the idea of truly holistic medicine, showing how it can bring change and restore balance in people's lives.
Click here to read the extract
Praise for the first edition of Principles of Kinesiology:
"A well-crafted book, ideal for newcomers to the subject, whether lay or professional…an accurate and balanced guide to this fast-growing area of healing."
– Leon Chaitow ND, DO, MRO, naturopath, osteopath and acupuncturist, and Editor-in-Chief of the Journal of Bodywork and Movement Therapies
"A much-needed book…to get help with your pain, stress and improve your performance with energy balance and muscle facilitation."
– John F. Thie DC, founder and author of Touch for Health
Maggie La Tourelle has worked in the field of holistic healthcare for thirty years as a practitioner, teacher and writer integrating kinesiology, counselling, psychotherapy and NLP. She is an honorary member of The Kinesiology Federation, and a member of The Association for Therapeutic Healers, The British Association for Counselling and Psychotherapy, The Scientific and Medical Network and the Guild of Health Writers. She lives in London, UK.
Anthea Courtenay is a freelance writer, journalist and translator based in London.