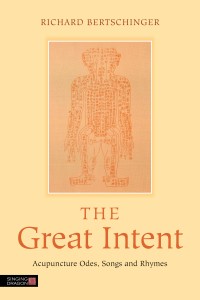 With The Great Intent, a new translation of acupuncture odes from Ming-era China, Richard Bertschinger gives us a rich insight into the life and thought of these doctors, as well as practical indications for treatment.
See the depth of practical insight conveyed through these odes in these two short excerpts, taken from the book.
Click here to read the extract (please note this extract features some Chinese characters, which some internet browsers may not be able to display properly).
'It is a difficult job to read traditional Chinese medical canons in the classical style – even for the young Chinese – but an exceptional translation into English can miraculously benefit scholars worldwide who wish to study the real ancient meaning of Chinese medicine. Richard Bertschinger's The Great Intent is such a book.'
– Professor Dr Bo-Ying Ma, MD, MA, PhD, FRSM, Chairman of the Federation of Traditional Chinese Medicine, UK
Richard Bertschinger studied for ten years with the Taoist sage and Master, Gia-fu Feng. A practising acupuncturist, teacher of the healing arts, and translator of ancient Chinese texts, he works and practises in Somerset, England.