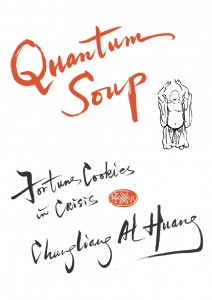 In these extracts Chungliang Al-Huang teaches us how to laugh at Taiji and enjoy being awkward. Taken from the classic Quantum Soup, these short excerpts highlight the author's uplifting approach to Taiji practice, Daoism, and life, written with humour, warmth and insight.
Click here to read the excerpts.
'Quantum Soup is a gourmet preparation of philosophical snaps and snails, sharks' fins and puppy dogs' tails to tickle the sophisticated palate and provoke happy, healthful belly laughs. Confucius say: "Number One good recipe!"'
– Joseph Campbell
'Quantum Soup is an elegant, wise and playful expression of Taoist and Zen Buddhist sensibilities in a Western setting – a philosophical entertainment with a collection of anecdotes, aphorisms and koan-like ruminations, all served up in appetizer portions.'
– Los Angeles Times
Chungliang Al Huang is the founder of Living Tao Foundation, an international cultural-arts network for lifelong learning, and the director of the Lan Ting Institute, a cross-cultural study and conference center at the sacred and historic Wu Yi Mountain, now a UNESCO World Heritage Site in the People's Republic of China, and at Gold Beach on the Oregon Coast in the USA. He has written many classic books including Embrace Tiger, Return to Mountain: The Essense of Tai Ji; Essential Tai Ji; and The Chinese Book of Animal Powers, all of which are published by Singing Dragon.
© 2013 Singing Dragon blog. All Rights Reserved