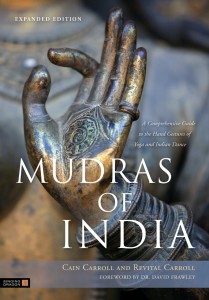 In this extract from Mudras of India, the authors explore the meaning and use of hand gestures in both vedic and Chinese traditions, and describes the ancient spiritual origins, and meaning of the mudras of India.
"Our hands are a source of tremendous power. With such profound dexterity,sensitivity, and utility, the human hands may be one of our most defining features as a species… With the hands playing such a central role in our experience of being human, it comes as no surprise that many of the world's great spiritual and artistic traditions have considered the hands as sacred."
Click here to read the extract
Mudras of India is now available in paperback, and includes a new chapter that comprehensively lists the benefits of hand mudras, covering major health concerns as well spiritual and psycho-energetic categories.
"Mudras of India is a much-needed compendium that beautifully illustrates the incredible variety and versatility of the hand gestures that play a key role in India's sacred traditions. Every dancer, yogi, or yogini will want to keep a copy on hand!"
– Roxanne Kamayani Gupta, PhD, author of A Yoga of Indian Classical Dance: The Yogini's Mirror
Cain Carroll teaches yoga, qigong, meditation and self-healing worldwide. He has trained extensively under the guidance of Daoist, Buddhist and Indian Yoga masters. His journeys have taken him to remote areas of India, China, Nepal, Tibet, Thailand and South America, where he received private instruction in many rare and powerful practices. Cain is co-author of Partner Yoga and creator of three self-healing DVDs. His website can be visited at www.caincarroll.com. Revital Carroll has been dedicated to the study of Indian spiritual arts since childhood. Intensive study and practice of yoga and meditation in the Himalayas led her to discover her passion for Odissi Indian Dance. She is the creator of three instructional DVDs and she offers classes, workshops and performances worldwide. Visit www.shaktibhakti.com for more information.