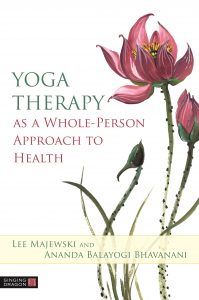 Lee Majewski and Ananda Balayogi Bhavanani's new book, Yoga Therapy as a Whole-person Approach to Health, is published in July 2020 – a groundbreaking book that explores yoga and yoga therapy as a multi-faceted approach to wellness.
Lee Majewski C-IAYT is a yoga therapist at Marsden Centre for Integrative Medicine, Vaughn, Canada and visiting senior yoga therapist at Kaivalyadhama Yoga Institute, India. She is a cancer survivor and since 2006 has worked with cancer and psychosomatic chronic disease patients, including running intensive yogic retreats for cancer patients in Europe, North America, India and Australia.
Ananda Balayogi Bhavanani is Director of the Centre for Yoga Therapy Education and Research (CYTER) and Professor of Yoga Therapy at Sri Balaji Vidyapeeth University. He is also Chairman of the International Centre for Yoga Education and Research at Ananda Ashram, Pondicherry, India and Yoganjali Natyalayam, the premier institute of Yoga and Carnatic Music and Bharatanatyam in Pondicherry.
Together, they created this book for yoga therapists, health professionals and all those interested in this modality to provide a deeper understanding of yoga therapy, carefully clarifying yogic concepts and exploring how deep yogic work can be practically applied to a range of chronic conditions.
Watch an in-depth discussion with the authors, facilitated by Dr Lori Rubenstein Fazzio, clinical professor of yoga and health at Loyola Marymount University, and owner of Mosaic Physical Therapy in Los Angeles.