Below is a chance to get to know Carol Rose, author of upcoming Integrating Clinical Aromatherapy in Palliative Care, publishing 18th May.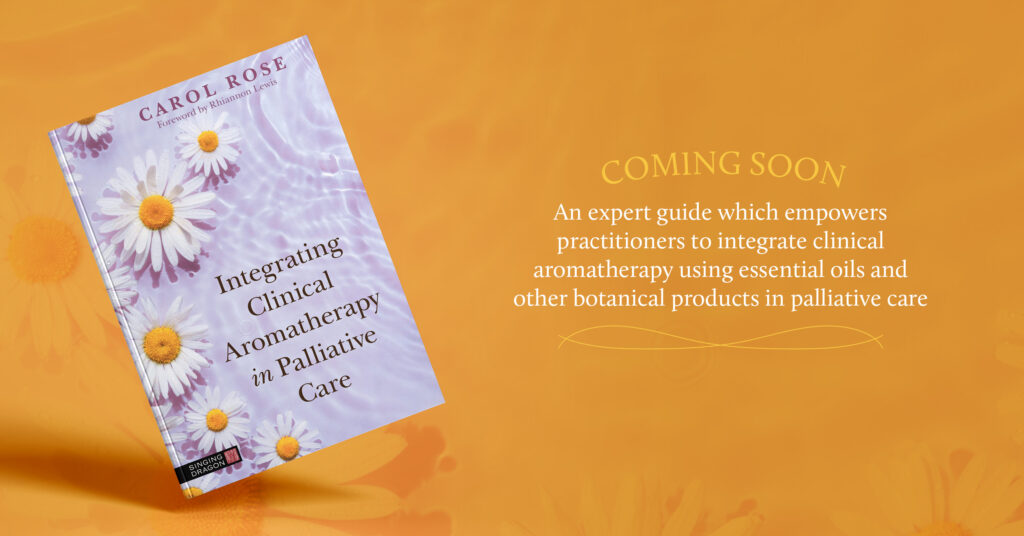 How did you become interested in essential oils and aromatherapy?
My first encounter with essential oils happened in the 1980's as a newly registered nurse specialising in oncology at London's Royal Marsden Hospital. During that time, I observed patients receiving gentle hand massages using simple blends of lavender and sweet marjoram, fragrances that captured my attention and also my curiosity. In those moments of connection, where touch was non-medicalised, a different level of communication was taking place. Patients were visibly relaxing by this compassionate form of physical touch and tangible act of caring. For me, something transformational happened as I listened to these patients speak of their restful night's sleep and tranquil dreams; a paradox given this was a busy hospital environment and they were all confronting a life-threatening diagnosis of cancer. This discovery of a different level of patient care spoke straight to my heart.
How did you begin your career?
Essential oils sustained me through the subsequent years of study which had extended to a BSc (HONS) in palliative nursing whilst simultaneously working full-time with patients in end-of-life care. Oncology and palliative nursing featured heavily throughout those formative years, being shaped by roles involving clinical research and setting up site-specific services for cancer genetics and colorectal cancer. All the while, the balance was redressed through a love of gardening and exploring more thoroughly this world of natural therapies and how patients could benefit from these additional resources to complement their conventional medical treatments. Many of the practical aspects of aromatherapy were self-taught from the few books available at the time whilst I made steady progress working with my collection of essential oils. Only after settling with my husband in New Zealand, was I able to consciously rethink how to merge these unwavering passions. I qualified as an aromatherapist, specialising in those with progressive and life-limiting illness to work with them through private practice and as the lead therapist at our local community-based hospice.
Were there any challenges in entering this field?
There are of course challenges when implementing a new service, especially within the hospice sector where the most appropriate use of charitable funds are always uppermost in the minds of CEO's and Trust Board members. For several years I worked a volunteer therapist administering to patients, caregivers, the bereaved, as well as staff. The objective was to allow the therapeutic effectiveness of the essential oils to speak for themselves.
It is within the realms of spiritual and emotional care where I believe aromatherapy makes its greatest difference. For example, where there is emotional distress such as anxiety, or existential suffering causing escalating levels of pain which appear resistant to all forms of analgesia. In these situations rarely do we see pharmacological intervention actually reaching the underlying cause of the patient's distress. The addition of other approaches which strive to restore wholeness in the patient, particularly in facilitating healing of the human spirit, cannot be overlooked. Eventually, my perseverance paid off and funding of my position was raised to enable patients the option of receiving clinical aromatherapy approaches alongside conventional medical management of their symptoms.
What did you enjoy about writing the book?
Everything! I had been writing articles for the International Journal of Clinical Aromatherapy for four years before the suggestion of writing a book was proposed. At the time, my husband had just undergone major surgery, I was running his business as well as managing a patient caseload and teaching! Although life was hectic, there was solace to be found in those hours immersed in this writing experience.
One of my aims for this process was to embrace the challenges, especially knowing brevity is not my strong point! Importantly, I wanted the book to deliver a strong message of how aromatherapy aligns seamlessly with the concept of 'integrative medicine,' an approach which extends beyond an amalgamation of different medical interventions to encompass individualised patient care, where the focus incorporates the spiritual, emotional and social dimensions together with the physical body. Here, the values, perspectives, hopes and aspirations of the patient, their family and those closely involved in their end-of-life care, are central.
To whom would you recommend the book?
Integrating Aromatherapy in Palliative Care is a fundamental resource for anyone working with patients with life-limiting illness and their families; qualified aromatherapists, medical practitioners, nurses, spiritual advisors, counsellors, social and bereavement workers. It is also a valuable source for research initiatives as well providing stake-holders, who manage palliative care funding, with evidence-based information to support the effectiveness of aromatherapy services in this setting.
---
Carol's book Integrating Clinical Aromatherapy in Palliative Care is available to pre-order now.
If you liked this article, why not join our mailing list to receive exclusive content and discounts? Sign up to the mailing list here.