Rebecca Avern is a traditional acupuncturist and founder of The Panda Clinic, a children's acupuncture centre in Oxford. She is also author of Acupuncture for Babies, Children and Teenagers, writes a blog at Nurturing the Young, and is senior lecturer and clinical supervisor at the College of Integrated Medicine, Reading, UK.
In this vlog, Rebecca discusses the effects and impacts of the current lockdown on children, and what parents can do to help them through this difficult period – whether they're primary school-aged or teenagers – from both a Chinese medicine and a parenting perspective.
To read more about Rebecca's background and motivation to write her book, read our #MeetTheSDAuthor interview with her
by clicking here.
---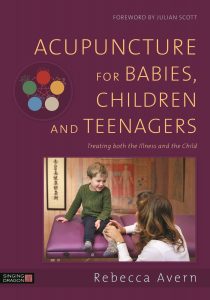 Acupuncture for Babies, Children and Teenagers
Treating both the Illness and the Child

Rebecca Avern, illustrated by Sarah Hoyle
This colour textbook enables acupuncturists to diagnose and treat physical and emotional ailments in babies, children and teenagers. It draws on the author's extensive clinical experience to provide solutions to a wide range of conditions including asthma, allergies, bedwetting, digestive issues, ADHD and depression.