During this challenging time, many children can experience anxiety, stress or anger due to staying at home. To help manage these feelings and equip them with tools they can use anywhere and anytime, Singing Dragon has collated some book recommendations below. These books teach breathing, Qigong and yoga techniques for children to help focus their attention and calm their thoughts, as well as enabling parents to learn with them.
Click the titles of the books – or the cover images – to learn more or purchase a copy.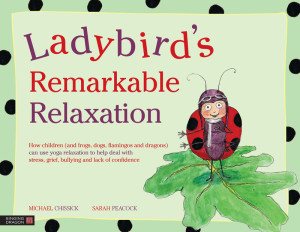 Ladybird's Remarkable Relaxation
How children (and frogs, dogs, flamingos and dragons) can use yoga relaxation to help deal with stress, grief, bullying and lack of confidence
Michael Chissick, illustrated by Sarah Peacock
This engaging picture book teaches an effective yoga relaxation technique that children can use anywhere and anytime to cope with anxiety, stress, grief, or bullying. Whether they feel stressed like Frog, or lack confidence like Dog, children will relate to the cast of delightful characters and learn that they too can use relaxation to cope with anxiety, bullying, or grief, and face their worries.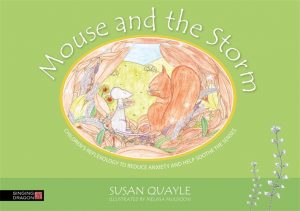 Mouse and the Storm
Children's reflexology to reduce anxiety and help soothe the senses
Susan Quayle, illustrated by Melissa Muldoon
Written in rhyme along with easy-to-follow diagrams and instructions for giving simple hand reflexology to a child, this book will help parents soothe children, especially those who experience anxiety or have sensory regulation difficulties. Beautiful illustrations accompany the reflexology techniques which are easy to use to provide a calming experience to a child. No prior reflexology knowledge is required.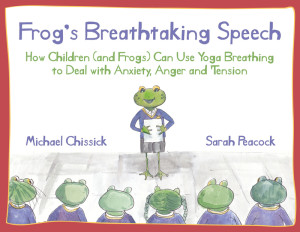 Frog's Breathtaking Speech
How children (and frogs) can use yoga breathing to deal with anxiety, anger and tension
Michael Chissick, illustrated by Sarah Peacock
This charming illustrated picture book teaches children four yoga breathing techniques in a fun and interactive way. The story successfully increases children's awareness of their breath and shows how breathing can be used to deal with anger, anxiety and tension. Suitable for children aged 4-11.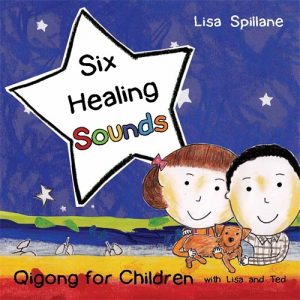 Six Healing Sounds with Lisa and Ted
Qigong for Children
Lisa Spillane
Six Healing Sounds with Lisa and Ted teaches young children how to transform negative feelings into positive ones by using simple breathing techniques that are based on ancient Chinese Qigong exercises. This delightful and brightly illustrated picture book will be an enjoyable read for children aged four to eight and will teach them effective healing techniques to overcome unpleasant emotions.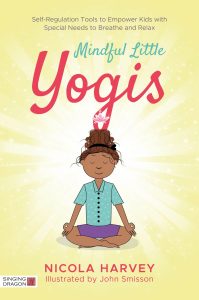 Mindful Little Yogis
Self-Regulation Tools to Empower Kids with Special Needs to Breathe and Relax
Nicola Harvey, illustrated by John Smisson
This practical and creative book is filled with simple calming activities to help children find a sense of peace and settle heightened emotions during busy times. Each activity is easily adaptable for different ability levels, and includes activities such as lion breathing, bubble breathing, and sensory yoga games.
---
To be the first to hear about our new publications, or to receive our monthly newsletter full of fresh author content, subscribe to our mailing list by clicking here.