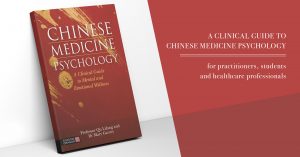 By Dr Mary Garvey
Our new book, Chinese Medicine Psychology: A Clinical Guide to Mental and Emotional Wellness, is the culmination of many years of clinical work, teaching, research and collaboration. It includes and expands upon some of our previous conference and published papers. It also contains a lot of new material to provide a more complete guide to Chinese medicine's practice response, management and cultivation of mental and emotional well-being.
What does the book cover?
The book applies classical ideas to the contemporary clinical setting, modern disease categories and individual patient presentations, and is in two parts.
Part One
In Part One we give a detailed introduction to Chinese medicine psychology theory, including its basis in early Chinese thinking and modern developments. These chapters explore the generational and ancestral aspects of human mentality, their context in the natural world and the evolution of human life.
This first part of the book provides a comprehensive explanation of Chinese medicine psychology, and the theories that guide its analysis of mental–emotional disorders.
Part Two
Part Two focuses on clinical practice strategies and methods. In this section, we present diagnostic information and treatment strategies that practitioners can readily apply to their patients. We draw especially on Zhang Zhongjing's Essential Prescriptions of the Golden Cabinet (c. 220 CE), and extend these classical ideas to interpret many mental, emotional, mood and personality disorders.
Our approach explains how to individualise treatments for specific presentations, and the cases in the final chapter illustrate the application of Chinese medicine theory–practice to the care and management of psychological illness.
About the Authors
Professor Qu Lifang and I are Chinese medicine clinicians, researchers and academics. Between us we have seventy years of experience in the field, and our co-authored published work spans more than twenty years.
Professor Qu was the Director of the Golden Cabinet Research and Education Department at the Shanghai University of Traditional Chinese Medicine, until her retirement in 2016. She has designed and delivered Chinese medicine courses at universities in Europe, Asia and Australia.
I (Dr Mary Garvey) am a senior lecturer in the Chinese medicine programs at the University of Technology Sydney (UTS), and both Professor Qu and I are members of the World Federation of Chinese Medicine Societies' Mental Diseases Specialty Committee (Beijing, established 2013).
Our contributing author, Doctor Li Weihong, is a lecturer, clinician and researcher in Chinese medicine at UTS. Her generous assistance and expertise in translating the Chapter Nine cases made it possible to include these fascinating stories and medical records.
Why Chinese medicine psychology?
Clinical evidence is growing for Chinese medicine's effectiveness in assisting the management of many illnesses, including mental–emotional conditions. And today, Chinese medicine psychology is a growing area of clinical practice in China and the West. Chinese Medicine Psychology is a professional, clinical practice and learning resource designed to facilitate and promote this important field of healthcare.
---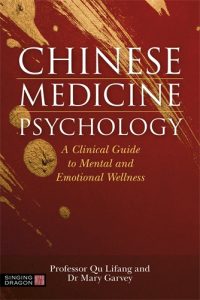 Chinese Medicine Psychology
A Clinical Guide to Mental and Emotional Wellness

Professor Qu Lifang and Dr Mary Garvey
This book facilitates and promotes the use of Chinese medicine to manage mind and emotion-related illnesses. It is divided into two parts with the first introducing the theory of Chinese medicine psychology, and the second acting as a guide to clinical practice.