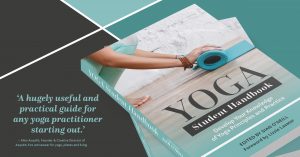 Believing in its transformational power, Sian O'Neill has been practising yoga for over 15 years. The first book she edited for Singing Dragon, Yoga Teaching Handbook (Singing Dragon, 2017), was a great success – and with the publication of Yoga Student Handbook, Sian and the contributors share their tips and advice for yoga students and teacher trainees. 
In the first of three instalments about yoga journeys, Sian talks with Katy Appleton, founder of appleyoga.
appleyoga is probably one of the better known brands in the yoga world in the UK today. Founder Katy Appleton, self-described as a 'lover of life' and 'recovering control freak', was a former professional ballet dancer with the English National Ballet. Running in the family, Katy's mum practised yoga while pregnant, and Katy remembers being a new student and attending yoga classes with her mum as a very little girl. Yoga arrived in her life as an adult to counterbalance the extremities of performance while a professional dancer, and she would practise breath work and tools to help her rebalance and sleep after a performance.
As a student, Katy's first teacher training was in Ibiza in the Sivananda tradition. Other key yoga influences in her life include well-known yoga teacher, Shiva Rea, whom Katy credits with broadening her understanding of yoga and in particular, vinyāsa krama (which can be interpreted as meaning 'step by step progresion'). Katy became Shiva's assistant, travelling with her and then becoming a mentor on Shiva's teacher training. She has also dabbled with Ashtanga with David Swenson, and mentions other yoga friends/influences including Annie Carpenter and Tiffany Cruikshank.
Why did you decide to teach?
Katy describes her decision to teach as a calling. Indeed, that is a common theme in the chapter by Katy and co-author Natasha Moutran on building a yoga business in Yoga Teaching Handbook that it is important to know the 'why' behind starting your yoga business. Katy has clear values underlying appleyoga including honesty and humility. She believes in holding a safe space for people and quotes Maya Angelou: 'People remember how you make them feel'. For Katy, yoga offers a space that is 'tangible and palpable that is touched when practising yoga'. She describes yoga as a 'homecoming' which offers a chance for the nervous system to relax, a place beyond the internet and understanding from books. She believes yoga can offer an anchor from which to move around in life.
It is very clear that Katy is one organised and hard-working lady, and that building appleyoga has involved many years of dedicated hard work. So it is no surprise that Katy has several plans for the future. After a first successful run of her new 40-day online course called 'the elixir', she is also creating a third course, as she has been blown away by the feedback from the first and is looking to build more of an online offering.
For those looking to explore yoga further, Katy advises to start by asking 'what do I need?' We navigate from where we are.
What do you foresee for the future?
For the future, Katy sees more content being made available online, an increasing interest in mindfulness and the evolution of different hybrids of yoga. She expresses the hope that more people will end up practising yoga, which might 'raise the vibration – the planet needs it'.
---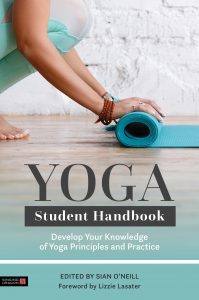 Yoga Student Handbook
Develop Your Knowledge of Yoga Principles and Practice
Edited by Sian O'Neill
An accessible guide on the history, anatomy and philosophy behind yoga, showing how yoga students can develop and grow their personal practice. By offering students and teacher trainees guidance on how to move on to the next stage in their learning, this practical companion helps to deepen their understanding of holistic yoga practice.