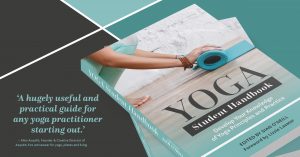 Believing in its transformational power, Sian O'Neill has been practising yoga for over 15 years. The first book she edited for Singing Dragon, Yoga Teaching Handbook (Singing Dragon, 2017), was a great success – and with the publication of Yoga Student Handbook, Sian and the contributors share their tips and advice for yoga students and teacher trainees. In the second of three instalments about yoga journeys, Sian talks with Liz Lark, who has been teaching yoga for almost 25 years and has been a Board Member of Yogacampus since its inception in 2003.
We meet in Liz's garden in Sussex. The garden is characterful and charming, with Turkish tiles above a pond, plentiful plants and artistic touches. Liz is as generous with her time as she is in her yoga classes, interspersing our conversation with many anecdotes and inspiring quotes (Liz's memory for quotes from all sources is amazing).
How did you become interested in yoga?
A naturally sporty person, Liz Lark attended a yoga class as a teenager, where a teacher remarked (favourably) on how slowly she performed a simple movement of raising arms overhead – she was in the flow and enjoyed the coordination of movement and breath. Liz regularly returns to basics, although clearly an extremely proficient yoga practitioner, having taught yoga for over 20 years – 'can I live in the present?' She sees yoga 'as a vehicle to explore creative expression, connect with the transcendent function with curiosity, without dogma, enjoying creative expression through ritual, singing, scent'.
There is something of the rebel about Liz – the daughter of a vicar, she explains she is rebellious against dogma. She sees yoga as a vehicle to explore, but without dogma. Perhaps this is partly what led her overseas. It was in India, in the Shiva Prema Siva ashram (Pune, Maharashtra), age 19, that she witnessed yoga students of Iyengar – one hanging upside down, strapped to the library wall, hanging in mediation like a bat!
What is your training background?
Liz trained in the Lake District with Christine Pickering, recalling how the British Wheel of Yoga Foundation course entailed many essays at that time. She was in her mid-late 20s when she discovered Ashtanga and subsequently went on to train with the renowned Derek Ireland in Crete.
Liz is also a trained artist, working as an artist in residence for a period. Her website is called 'Liz Lark Yoga Art',2 and anyone who has attended her class will attest to the strong creative themes in class, both in her sequencing of classes and in her actual art displayed – often colourful mosaic-like drawings and paintings. She also completed an MA in Performing Arts (where she met good friend and fellow yoga teacher/ teacher trainer, Jean Hall), and is interested in artistic expression. Liz has described herself as a magpie, drawn to things creative, and views yoga as
a holistic practice: 'life experiences filtered and understood through the practices of yoga – we can ride the storms…' She also draws from nature, poetry, music and contemporary bodywork, most recently exploring somatics. She is currently basing her meditations on Acceptance and Commitment Therapy (ACT) – a therapy technique that directly relates to meditation as a way of living in the 'immediacy of the present moment'. Liz quotes Jon Kabat-Zinn: 'Prolong not the past, invite not the future'. For Liz, in fact, yoga is increasing a mental practice: about resilience, balance, steadiness. Liz has also trained in Thai massage, appreciating the power of safe touch.
Charismatic, warm and funny, it is no surprise that Liz has worked also with the stars, including Alan Rickman and Ralph Fiennes. She has also worked with an Indian dance company that she very much enjoyed and in fact she, herself, performed at the Indian Embassy. She enjoys all forms of creative expression including movement, dance and yoga, and views yoga as an expressive art form.
What are your plans for the future?
In terms of future plans, Liz is enjoying learning more about psychotherapeutic ideas (for example, meditations based on ACT), and has valued her recent work with foster carers (she has co-authored a book, Caring with Vitality, published by Jessica Kingsley Publishers).
I ask Liz where she thinks yoga is heading. She replies that she is basically an optimist. And that if she had been born a boy, she would have been called Steven. Perfect – totally in keeping with her open mind, natural curiosity, modesty and appetite for life. In Liz's words, 'Yoga is permeating consciousness and so will affect society. Now that anxiety, stress and depression are an epidemic, we must dig deeper. Yoga and any spiritual, creative practice which connects us with nature gives us the tools to get a clearer perspective'.
---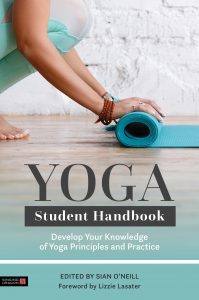 Yoga Student Handbook
Develop Your Knowledge of Yoga Principles and Practice
Edited by Sian O'Neill
An accessible guide on the history, anatomy and philosophy behind yoga, showing how yoga students can develop and grow their personal practice. By offering students and teacher trainees guidance on how to move on to the next stage in their learning, this practical companion helps to deepen their understanding of holistic yoga practice. Including insights from renowned yoga professionals, including Lizzie Lasater, Andrew McGonigle, Liz Lark, Graham Burns, Tarik Dervish and more, this book offers practical ways to hone yoga skills and knowledge.