Yoga therapy offers a truly holistic approach to solving the growing problem of insomnia. In her new book, Yoga Therapy for Insomnia & Sleep Recovery, expert yoga therapist Lisa Sanfilippo explains how yoga practices can be used to target the underlying issues that inhibit good quality sleep, with immediate results that build over time.
Honouring a natural yogic and Ayurvedic approach, and infusing it with modern neuroscience, Lisa addresses the deeper emotional reasons for not sleeping well and looks at how lifestyle changes can help to achieve better quality rest. With the body-mind connection at its core, this book shows how to support better health holistically to restore balance in each layer of the body.
In the below video, Lisa demonstrates her favourite yoga poses from a sleep sequence to help you relax and prepare your body for sleep.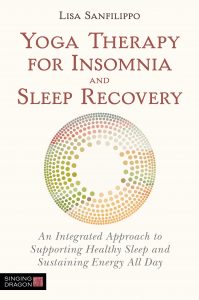 Yoga Therapy for Insomnia and Sleep Recovery
An Integrated Approach to Supporting Healthy Sleep and Sustaining Energy All Day
Lisa Sanfilippo
Examining the ways that the body, trauma and emotional issues, and lifestyle can impact sleep, this book shows how to apply yoga holistically to tackle insomnia. Learn how to reset the delicate body-mind balance by moving through the koshas. This approach will put clients on the path to good quality sleep, with increasing effect over time.
Click here to learn more or buy the book
---
Sign up to our mailing list and be the first to receive information on our latest releases, news, invites and more.