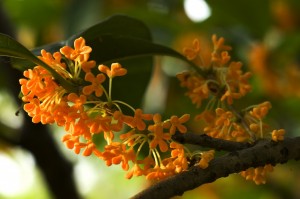 In Scotland, we have just enjoyed an uncharacteristically glorious summer, full of beautiful scents. Autumn can be wonderful too, but then it is more the rich pallete of colours that we appreciate – our visual sense tends to dominate the season. Here, if we are asked to identify the scents of autumn, we might think of fallen leaves, damp earth, pumpkins and gourds, bonfires, wood smoke, maybe coniferous forests. However, there is one beautiful scented flower that, in China and Japan, is very much associated with autumn, and that is osmanthus.
Osmanthus fragrans is a woody, evergreen flowering shrub. In China it is known as kweiha, and the scent of the blossoms is loved and renowned; and indeed has been described as the quintessential scent of China.  It has been cultivated for hundreds of years, and is often found at Buddhist temples, where it is planted in groves. Osmanthus is very much considered to be an autumn flower, despite the reality that some varieties bloom all year round, hence the name 'osmanthus four seasons'.  The flowers range from silvery white to reddish orange, but the most fragrant are the orange-yellow varieties. Osmanthus blossoms fill the air with their diffusive, floral-fruity fragrance, and when they fall from the shrubs and carpet the ground, the scent persists for many hours (Kaiser 2006). It is no wonder, then, that they grace such special places, and are held in such high regard.
Traditionally, like jasmine, dried osmanthus flowers are used to flavour both green and black teas, however the scent is very different, and quite distinctive. An absolute can be extracted from the flowers. This is very costly – it is an amber or greenish, thick liquid, with a complex, rich, sweet, honey-like, floral scent with prominent notes of plums and raisins, and apricots (Warren and Warrenburg 1993; Kaiser 2006). Because of its complexity, and the unique relationship between its floral and fruity notes, the absolute has the qualities of a perfume, in that its scent has many dimensions. It is impossible to attribute its scent to a handful of constituents, however it would be reasonable to say that β-ionone (woody, floral, violet, slightly fruity, with cedarwood, raspberry nuances) and dihydro-β-ionone, γ-decalactone (powerful, peach-like) and related lactones, linalool (light floral, woody), nerol (sweet, floral, seaweed-like) and geraniol (sweet, rosy) have a major impact (Kaiser 2006).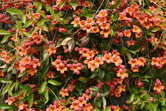 Turin and Sanchez (2009) discuss the use of osmanthus in perfumery; they suggest that it is actually a 'ready-made' fragrance, and that the perfumer's skill is in reviving it after the solvent extraction process! They illustrate this with two fragrances composed by Jean-Claude Ellena – Osmanthus for The Different Company (2001), which is true to its nature with peach and lemon top notes, and the uplifting Osmanthe Yunnan for Hermès (2005) which pays tribute to its traditional uses by including Yunnan smoked tea notes alongside freesia, orange and apricots. Other well known, 'mainstream' fragrances that claim to include osmanthus or an osmanthus 'note' are Eternity (Calvin Klein 1988), Escape (also Calvin Klein 1991, but since reformulated), and Sunflowers (Arden 1993). The artisan perfumer Alec Lawless, who worked mainly with natural raw materials, commented on his experience working with osmanthus absolute when composing Kuan Yin (Essentially Me); it produced an unexpected, delicate note of peach blossom (Lawless 2009).
It would seem that the fragrance of osmanthus has, for a long time, been regarded as uplifting. A study on the mood effects of fragrance conducted by Warren and Warrenburg in 1993 included a synthetic version of osmanthus. It was shown to increase feelings of stimulation and happiness, decrease feelings of irritation and stress, and prominently decrease depression and apathy; it had no significant effect on feelings of sensuality or relaxation. So, in the west, where we cannot readily access the fragrant flowers, we could consider using the scent of the absolute to lift our spirits. As autumn progresses, and after the equinox the days grow shorter and darker, many of us experience low mood, lethargy or even 'seasonal affective disorder'. Osmanthus can offer us a beautiful, safe way to restore balance.
Jennifer Peace Rhind is a Chartered Biologist with a Ph.D. in Mycotoxicology from the University of Strathclyde. Her long-standing interest in Complementary and Alternative Medicine (CAM) has led to qualifications in massage, aromatherapy and reflexology. She co-founded the first professionally accredited CAM school in Scotland and remains involved in scent education. She has written several books on aromatherapy, published by Singing Dragon, the latest is Listening to Scent, a guide to training your olfactory palate. She lives in Biggar near the Scottish Borders.
References
Kaiser, R. (2006) Meaningful Scents around the World. Zurich: Verlag Helvetica Chimica Acta & Wiley VCH.
Lawless, A. (2009) Artisan Perfumery or Being Led by the Nose. Stroud: Boronia Souk Ltd.
Turin, L. & Sanchez, T. (2009) Perfumes: The A-Z Guide. London: Profile Books Ltd.
Warren, C and Warrenburg, S. (1993) Mood benefits of fragrance. International Journal of Aromatherapy 5, 2, 12-16.