In the second part of our Q&A with Dagmar Härle, she discusses how therapists can use trauma-sensitive yoga with their clients, and how to adapt their style of working with someone who has experienced trauma. You can read part one of the Q&A here.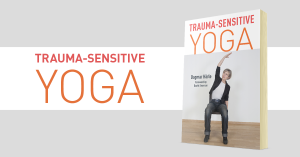 Why is it important that yoga teachers and therapists have an awareness of what positions might be potentially triggering for someone who has experienced any form of trauma?
Using yoga in the beginning of the process, we want to offer resources and foster self-efficacy and self-esteem. Offering postures with legs wide open like in happy baby where we lay on our back, holding the toes in our hands or buttocks unprotected like in a downward facing dog, for sexual traumatized people we have to be aware that those asanas can trigger. But avoiding these poses in the long-term doesn`t solve or heal because the patient cannot make new experiences like "I now can tolerate poses I couldn`t weeks ago".
Holding people in their comfort zone ultimately doesn't help them, or let them develop. It's a matter of timing. Offer "safe" and easy asanas (always being aware that we don`t know what triggers may be) in the beginning and start to open up while the person makes good experiences and gains resources.
How important is flexibility or creativity in teaching style when working with people with a history of trauma?
Offering choice needs creativity. Flexibility is needed when an asana or breathing technique triggers and you want to offer another possibility.