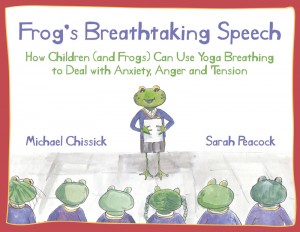 Bring the benefits of yoga and yogic breathing techniques into the classroom and the home with this game from Frog's Breathtaking Speech author Michael Chissick. Based on the book, the game is a fun way to help children to recognise negative emotions and lean how to turn these into positive ones.
Simply download the game board, card set and instructions from these links and with some simple steps you'll be ready to roar the house down with Lion, shake the walls with the Woodchopper Breath and more.
The game is at its most effective if used with the book, Frog's Breathtaking Speech – find out more about the book here.
 Michael Chissick has been teaching yoga to children in primary mainstream and special needs schools as part of the integrated school day since 1999. He is a primary school teacher as well as a qualified yoga instructor. He is also a specialist in teaching yoga to children with Autism Spectrum Disorders. Michael trains and mentors students who want to teach yoga to children.
© 2013 Singing Dragon blog. All Rights Reserved