As part of our Meet The Singing Dragon Author series, we speak to authors to discuss their motivation for entering their respective industries, inspiration for writing their books, what challenges they faced, and who they would recommend their books to. Is there a specific Singing Dragon author you would like to hear from? Let us know in the comments or join the conversation using #MeetTheSDAuthor.
How did you become interested in aromatherapy?
As a nurse, I've always been interested in complementary therapies that enhance health and wellbeing and offer support for the side effects of medical conditions and treatments. Prior to aromatherapy, I studied herbal medicine and nutritional therapies so it was a natural addition for holistic care.
I've also always loved pleasant scents and flowers so the idea of a clinical therapeutic modality with beautiful scents was very appealing to me.
How did you begin your career and were there any challenges in entering this field?
Twenty years ago, I completed a clinical nursing aromatherapy certification course at the medical center in Indianapolis. Soon thereafter, we moved to England for two years where I studied advanced aromatherapy with midwives and nurses and completed Graduate Complementary Therapy Studies at the University of Westminster London and had a private women's health aromatherapy practice.
In 2003, I returned to the US, taught and practiced complementary therapies and at this time, palliative and hospice nursing aromatherapy programs were developed, as this specialty was eager for aromatherapy education with very few people to provide the education.  I then developed an evidence-based nursing midwifery aromatherapy curriculum, educated 15 nurses and developed the first hospital OB unit nursing aromatherapy program in the US. Through a position as a CAM nurse consultant for a large hospital pharmacy and a generous AIA grant, we conducted and published postpartum depression aromatherapy research.
In the beginning, the biggest challenges were lack of public and healthcare professional knowledge in and fear of complementary therapies as a "New Age" modality. The evidence-based approach has slowly but surely opened doors and minds.
What did you enjoy about writing the book?
The most enjoyable aspect about writing was sharing twenty years of evidence-based aromatherapy practice, reflecting back on how far we've traveled by educating healthcare professionals and supporting so many women in multiple countries without any problems. I love the idea that this current prenatal-postpartum aromatherapy evidence base is now published so there's now a way for practitioners and the women they treat to have proof that their specific aromatherapy oils and methods have been studied, published and are effective and safe for them.
To whom would you recommend the book?
I recommend this book to all nurses, midwives, doulas and therapists specializing in OB/GYN women's health who use aromatherapy in their practice. Also, it's recommended for anyone who sells or recommends single essential oils or blends to review the evidence and be certain that what they're recommending has been shown to be effective and safe during this time in a woman's life.
Ultimately, the book is for all women using essential oils/aromatherapy especially if they're pregnant, laboring or nursing their babies, and those suffering physically and emotionally with menstrual issues, PMS or menopause.
---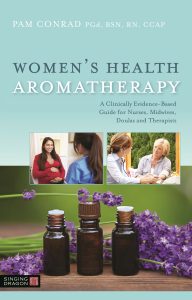 Women's Health Aromatherapy
A Clinically Evidence-Based Guide for Nurses, Midwives, Doulas and Therapists
Pam Conrad
Condensing thorough research into concise, easy-to-digest language, this scientific evidence-based guide enables women's healthcare professionals and aromatherapists to quickly determine the safest and most effective way to apply aromatherapy in any given situation.
---
Is there a specific Singing Dragon author you would like to hear from? Let us know in the comments or join the conversation using #MeetTheSDAuthor. Or join our mailing list to be the first to hear about our newest releases.