Mike Andrews, author of Homeopathy and Autism Spectrum Disorder, continues his exploration of how homeopathy is used in other cultures. You can read Part One here. 
By Mike Andrews
Since publication of my book in June 2014, I have received many invitations to lecture both at home and abroad. I had expected to lecture in the UK and to give presentations both locally and nationally, however the publication of my book raised my profile internationally in unexpected ways.
I have just returned from the 1st Malaysian International Integrative Healthcare Conference 'Integrative and Homeopathic Management in Children with Special Needs' at Cyberjaya University College of Medical Sciences.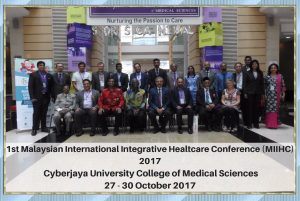 The only university in South East Asia to offer a fully recognised and accredited programme in Homeopathy by the Malaysian Ministry of Health & Ministry of Higher Education.
My vision in writing my book was to share with parents and healthcare professionals the potential benefits of homeopathic treatment for children on the Autism Spectrum.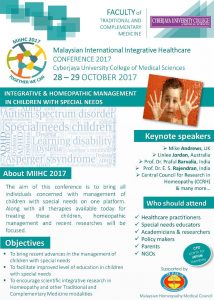 I was received with great warmth and appreciation by an audience of parents, occupational therapists, educationalists, students of homeopathy, Malaysian and Indian homeopaths, physiotherapists, psychiatrists, speech therapists and nutritionists.
On Friday morning I spoke on 'Improving the Quality of Life for Children with Special Needs', giving a brief overview of my work and a few short case histories. There were also workshops on Lego Therapy and Music Therapy for all participants and interesting presentations by the grandmother of a child on the spectrum, who was also a psychologist, and the father of a boy on the spectrum. Everybody in the audience was moved by Mohd Adli Yahya personal story of his developing relationship with his son, Denial & Acceptance, and how he came to set up the Autism Café project.
On Saturday I spoke on 'What can be achieved with homeopathy for ASD – clinical experience and outcomes explored'. An overview of research, as written about in my book, illustrated with narrative evidence from parents in my homeopathic practice. I was approached by many parents who were keen to discuss more of how their child could be helped and professionals who previously knew little about homeopathy.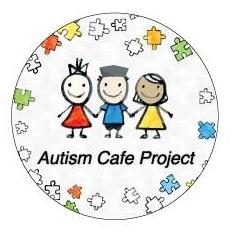 I was delighted to be joined on the trip by Linlee Jordan from Australia who had contributed chapter five to my book, The Holistic Approach: Staying the Long Haul; we were warmly received as keynote speakers.
I had the opportunity to meet Dr Barvallia from Mumbai who I referred to in my book (p53) who has conducted the largest research projects on the efficacy of homeopathy for children with a diagnosis of ASD (Barvalia, 2011). 
A theme which ran through the day was the importance of the therapeutic relationship with the parents of the autistic child patient and how as practitioners we provide a space where they are listened to, the value of which cannot be underestimated.
On the Monday I lectured to homeopathic colleagues and students on Learning from Challenging Autism Cases, when to change the remedy. This was valuable day learning from each other experiences in India, Australia and the UK.
It was an intensive trip as I arrived on Thursday morning and left on Tuesday afternoon and did not have much time for sight-seeing in Kuala Lumpar, but I was immersed in academic Malaysian and Indian culture and it was a very valuable networking experience.
I met Dr Manchandra Director General, Central Council for Research in Homeopathy for AYUSH (Indian government department for Ayuvedic, Yoga and Naturopathy, Unani, Siddha and Homeopathy), who gave an excellent overview of the evidence base for homeopathy in India. Dr Rajendran who has been looking at homeopathic remedies under the electron microscope and has written about 'Homeopathy as Nanomedicine'. I met Dr Saifullah khalid who is spearheading the integration of AYUSH in the United Arab Emirates.
Before flying home I was invited to visit Oasis Place a world class multi disciplinary intervention service, established by Dr Choy Sook Kuen, which was very impressive.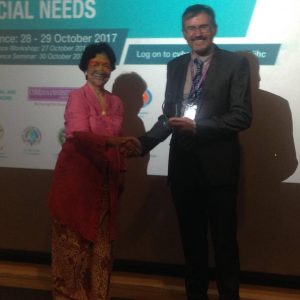 I came back with the impression that some of most exciting ideas and developments in integrated health care are happening in Malaysia, India and UAE, sadly something that is being cut back on in the UK.
My next trip shall be to South India in February where I will lecture at the Sarada Krishna Homeopathic Medical College & Hospital located at the southernmost tip of India.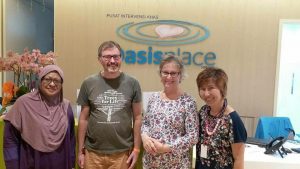 If you would like to read more articles like this and hear the latest news and offers on our books, why not join our mailing list? We can send information by email or post as you prefer, and please also tell us about your areas of interest so we can send the most relevant information. You can unsubscribe at any time.
---
More Books by Mike Andrews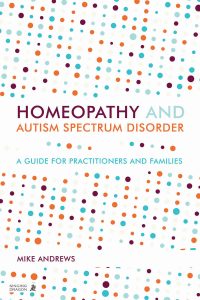 Homeopathy and Autism Spectrum Disorder
This book presents the clinical experiences of homeopaths from around the world who treat children and adults with ASD. It explores the real clinical outcomes that are being achieved by homeopaths in practice, including reduced aggression, improved physical health and enhanced overall wellbeing.
Click here to read more about the book.