Here at Singing Dragon, we've asked Production Designer, Emma Carroll if she wouldn't mind us jumping into her shoes for a day. Luckily, she agreed, and below is the result: a day in the life of an Production Designer at Singing Dragon.

Emma Carroll, 5th February 2016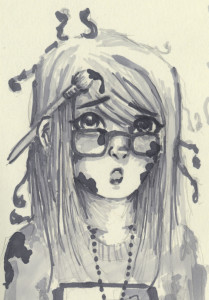 When I tell people that I am a Production Designer, the response I get is always "Oh, so you design book covers?" Then I am met with confusion when I say "Yes, and their insides." Not to mention the 'production' portion of Production Designer.
Like many office dwellers, I begin my day with emails (and a hearty mug of vanilla chai tea) – after clearing some space to work on my desk, I should really add having a sort out to my to-do list! More often than not, I will have queries from printers, asking about our new titles, and commissioning editors asking for quotes.
As I am in charge of arranging all print orders for new titles, from deciding where they print and sifting through paper samples to supplying the finished files, I begin the main part of my day there. Once I've cleared my unread messages and responded to those that need responding to, I check on press schedules to see if I've got to do anything specific for the current month's-worth of new books.
At least two weeks in every month are 'press weeks', meaning the weeks we send the book files off to the printers to be printed. Today was a press day for some of our May colour titles which are printing early in China for an event, so my morning was filled with putting final corrections on Mouse's Best Day Ever by Susan Quayle, and designing the back cover and spine. Once it was checked by another member of Production Design and a member of Production Editorial, the files were whizzed off to the printers and the printing process began!
For our colour titles especially, the printing process takes a fair amount of time – we have to send our books to press three months early for them to arrive for their publication dates! Once they're with the printers, they prepare ozalids, dummies and proofs for us so that we can double check the layout, materials and the colours before the full print run is started, then advances to make sure we're happy with the finished product before it goes to the shippers.
Excitingly, we've just received the advances for Shiatsu Theory and Practice by Carola Beresford-Cooke!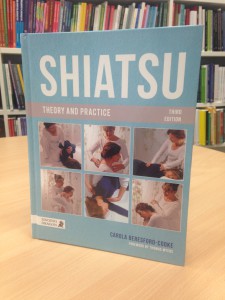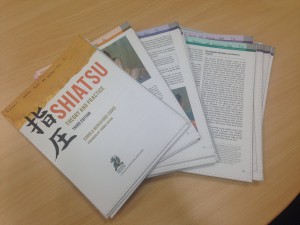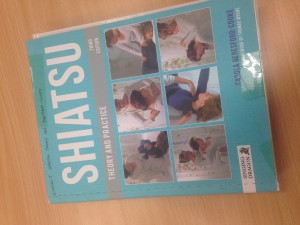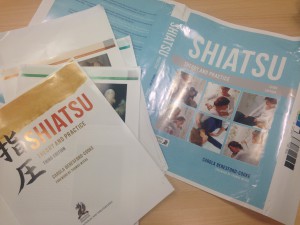 Every Wednesday afternoon, I attend two meetings. The first is a Design meeting, where we go over any issues we've had while designing and workshop any covers and typesetting we've been having trouble with. We also have a small news section where we discuss recent happenings in both the design and publishing world!
In the second meeting we catch up with Production Editorial and run through our departmental to-do list, assigning priorities as well as discussing any extra tidbits we each have to work on for the rest of the week – for me, that can include helping marketing to film and edit videos of our authors or taking photos of artefacts around the office for use on book covers. Most recently, I photographed some beautiful ancient Chinese scrolls to be used on the covers of our newest pair of titles by Guohui Liu (Discussion of Cold Damage [Shang Han Lu] and Foundations of Ancient Chinese Medicine).
I like to round off my day with my favourite parts of my job, so if there's a book which needs typesetting, or a cover which needs designing, I flex my creative muscles and dig into some book design! One of my favourite books to design was Sandra Scheinbaum's Stop Panic Attacks in 10 Easy Steps, for which I worked on both the cover and the interior. The cover went through several rounds of drafts but each of them was worth it, as the final result is one of my best covers yet! I love working on both the cover and interior of a title, I enjoy putting little references to the cover on the insides; in this book's case, I echoed the cloudy texture of the front by using cloud symbols instead of bullet points in the text.
When it's time to go home, I make sure I leave whatever I want to work on first the next morning in front of my computer so that I can get to work as soon as my emails and the press schedules are checked. But as Jane said in the last 'Day in the life…' post, life in the JKP/Singing Dragon HQ is not always quite that predictable!