These delicious vegan patties contain protein and healthy fats thanks to the combination of quinoa and almonds. The  nutritional yeast flakes provide B vitamins and they impart a wonderful nutty, cheesy flavour to the burgers.
Makes 8, Serves 4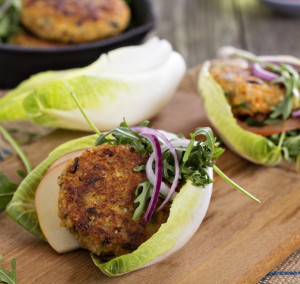 Gluten Free, Dairy Free, Suitable for Vegans, No added sugar
100g/3.5oz dry quinoa
1tsp bouillon powder
250g/9oz almonds
1 clove garlic, chopped
1 tbsp balsamic vinegar
1 tbsp tamari
1 tbsp tomato paste
2tbsp nutritional yeast flakes
Pinch of sea salt
1 onion, finely chopped
60g/2.5oz sun dried tomatoes, drained and chopped
1. Place the quinoa in a pan with the bouillon power and 250ml/1 cup water. Bring to the boil. Put the lid on and turn the heat to a gentle simmer. Cook for 15 minutes. Turn off the heat and allow the quinoa to cool.
2. In a food processor, process the almonds, garlic, vinegar, tamari, tomato paste, nutritional yeast flakes and salt. Puree until the nuts are very finely ground, and becoming a little sticky. Add the onion and sun-dried tomatoes and pulse together until the mixture starts to stick together. Add quinoa and pulse again until incorporated.
3. Shape the mixture into patties and chill for 30 minutes.
4. Heat a little coconut oil in a frying pan and cook the patties in batches about 5-6 minutes before turning over and cooking for a further 2-3 minutes until golden brown.
Calories per burger 284kcal, Protein 10.2g, Carbohydrates 10.9g, sugars 3g, total fat 22.1g, saturates 1.9g
This recipe is taken from Eat to Get Younger by Lorraine Nicolle and Christine Bailey, the book has over 100 more delicious anti-ageing recipes to combat inflammation and other ageing processes for a longer, healthier life.