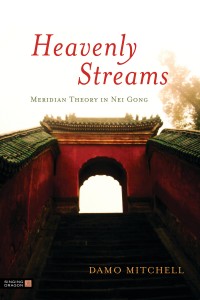 Damo Mitchell's new book, Heavenly Streams: Meridian Theory in Nei Gong, is quickly becoming a must-read resource for practitioners of Qi Gong, Nei Gong, Taijiquan, Chinese Medicine and internal martial arts.
Singing Dragon is pleased to make a copy of this indispensable guide available for free to five people chosen at random who sign up for our mailing list by Friday, September 6, 2013.
Please click here to sign up for our mailing list and get a chance at a free copy.*
Heavenly Streams provides step-by-step instructions on how to experience the various elements which make up the energy body, explaining how to identify and feel these, and how to diagnose imbalances and restore harmony. The author, Damo Mitchell,  describes the nature of the five elements, the meridians and the meridian points, inviting the reader to experience them through guided internal exercises using the body, breath and mind. Instructional drawings and photographs are included throughout the book.
Damo Mitchell is also the author of the bestseller Daoist Nei Gong: The Philosophical Art of Change.
Singing Dragon also publishes a wide variety of related books and resources, including:
If you are already on our mailing list, you may still enter. Simply fill out your name and email address on the form and unclick the check-box that says "please add me to the email mailing list". We'll make sure that you don't get added twice.
If you are a recipient of one of the five free copies of Heavenly Streams, we hope you will consider writing a review of the book and sharing with your friends and colleagues on book review sites and social media.
*Of course, you don't have to join our mailing list to enter the draw. If you would like to enter without signing up for the list, simply unclick the check-boxes on the sign-up form that say: Please add me to the postal mailing list; Please add me to the email mailing list; and Please send me a copy of the complete catalogue.