Shōnishin (from Japanese shōni = little child, shin = needling) is a non-invasive method of acupuncture which was developed in Japan for pediatric treatment around 100 years ago. Instead of using needles there are different tools and instruments. They are used for rubbing and tapping on certain reflex zones and meridian areas, as well as on acupuncture points for gentle stimulation along the torso and the extremities.
The therapeutic effect of Shōnishin is to regulate and support the specific development of children, especially the central and autonomous nervous systems. Therefore the treatment is very effective, especially for children with different disharmonies or illnesses from birth to school age. As Shōnishin has no side effects and is absolutely painless, this kind of treatment is made-to-measure for the needs, complaints, and illnesses of babies and children.
Other client groups who can benefit from Shōnishin
Shōnishin is being used as an alternative to acupuncture in women's shelters, mother-child facilities and nurseries. This aids women and children, who are in difficult social or monetary situations, abandoned and without any obvious way out. This includes traumatized women and children (e.g. survivors of rape), who are only able to permit touching via the "interposed" Shōnishin instrument where no skin-to-skin contact happens.
Another field of application for Shōnishin will be in the treatment of older adults. Particular parameters like skin conditions and mental conditions seem to show retrogression into childhood. First experiences with Shōnishin in homes for the aged show promising treatment approaches. Even here it becomes obvious, that treatment with a Shōnishin instrument is advantageous as older adults often suffer from a shortage of caring touch. With Shōnishin the contact doesn't take place directly, but indirectly with an instrument. Thus, older adults have no fear of contact and are willing to allow the treatment. Yet another advantage of treating elderly people with Shōnishin is that as many of them have to take blood-thinning medicines, with the non-invasive and gentle treatment technique with Shōnishin, there is no contraindication.
Training in Shōnishin
Training in Shōnishin varies a lot in the way it is done outside Japan. In Germany there are trainers who offer one-day courses. This, of course, entails the risk that therapists with minimal training could bring Shōnishin into public disrepute if they treat children outside their own household.
As a member of the Japanese Scientific Association of Acupuncture for Children (Nihon Shōni Hari Gakkai), my main aim in running courses is to set a high quality standard in the interest of both small and older children. My courses are based on current traditional Japanese medicine research and on Western health sciences on the other.
Knowledge on child development from both Western and Eastern points of view are an essential lesson of the course. Shōnishin training is best acquired after a basic training in a meridian therapy (e.g. acupuncture, Tuina or Shiatsu) and a minimum six days course. Since, ultimately, children are going to be treated, the motor and sensory aspects of child development in the first 12 months of life are taught, as is energetic development. The most important thing is to understand how the meridians develop, and their influence on child development and development in later life.
Theoretical Basics of Shōnishin
I have based my training of Shonishin upon my nearly 30 years' experience of working with children. My wife, Karin, initially trained as a physiotherapist and and went on to study shiatsu in Japan. In 1985, she and I founded an institute for Complementary and Alternative Medicine just outside Frankfurt, Germany. Karin teaches baby and child shiatsu internationally and is a Founder of the German Shiatsu Society. She has written a number of books on the subject, including Children at Their Best and Baby Shiatsu.
Together, we have developed a mod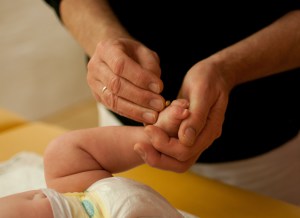 el of energetic development that can serve as the theoretical foundation for Shōnishin. It is the basis for understanding child development in its energetic aspect, and ultimately for diagnostic and therapeutic processes that depends on the stages of development.
The model of energetic development is an attempt to bring the knowledge of modern neuroscience, developmental psychology and developmental physiology into harmony with the knowledge and experience of oriental medicine.
The model states that each energetic stage of motor and sensory development builds on the previous developmental stage. The meridians play a primary role in this and represent a communications network connecting the child with her external world. They are then also responsible for the child's development of posture, movement, patterns of behavior and personality.
Knowing about the ways motor, sensory and energetic functioning are interwoven, opens up new perspectives on child development, resulting in specific treatment approaches. Ultimately, it is the knowledge of meridians in developmental stages forms the foundation for treatment of children of all ages with Shōnishin.
Shonishin Training with Thomas Wernicke in the UK:
3 day course as part of the 6 day Shonishin Training with Thomas Wernicke:
When: Saturday 30th May to Monday 1st June 2015
Where: Edinburgh
Cost: Early Bird booking by 31st March 2015 £235, full cost thereafter £260
For more information and to book your place (places limited to 12 people) contact:
Svenja Schaper, Shiatsu Practitioner, Dip. BSS, MRSS, PGCE
svenjashiatsu@movingtouch.co.uk mobile: 07842 563 298
~~~
Thomas Wernicke is a licensed General Practitioner with qualifications in complementary medicine, Chinese and Japanese acupuncture, as well as manual therapies including craniosacral therapy and osteopathy for adults, children and babies, psychosomatic therapy and homeopathy. He is a member of the Japanese Scientific Society for Shonishin, and since 2004, he has been the Training Manager for Daishi Hari Shonishin in Europe. Thomas is also Founding Member and President of the International Society for Traditional Japanese Medicine. He lives in Hochheim, Germany. He has written Shonishin: The Art of Non-Invasive Paediatric Acupuncture publishing by Singing Dragon.