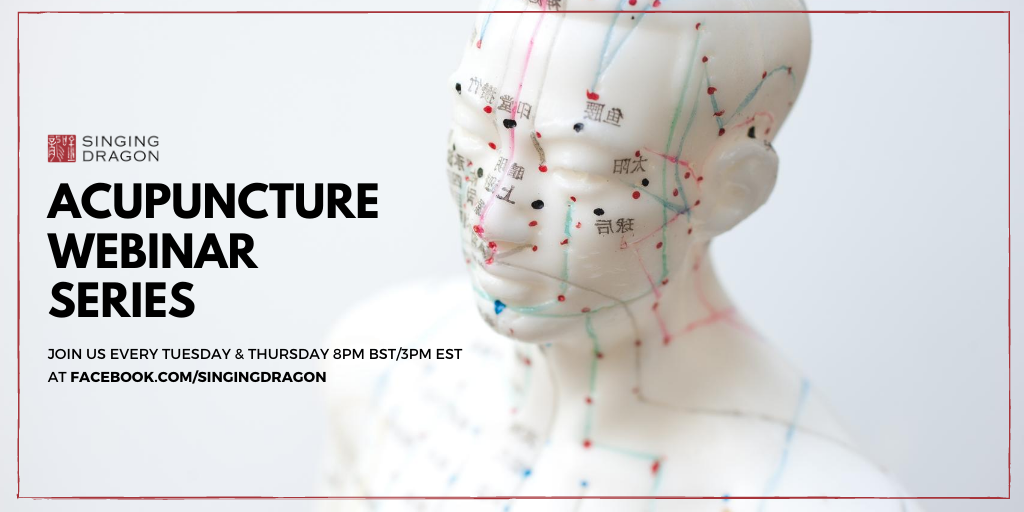 We are delighted to announce that Singing Dragon is launching a new Acupuncture Webinar Series.
Starting on the 15th of September, join us every Tuesday and Thursday at 8pm BST/3pm EST on our Facebook page for a new webinar by renowned acupuncture professionals.
You can join in the discussions, and our authors will be on hand to answer any questions or comments you may have on the day.
You can also submit your questions for our authors ahead of time by emailing hello@intl.singingdragon.com.
Our Acupuncture Webinar Series schedule so far features:
CT Holman – 15th September – Applying Heavenly Stems and Earthly Branches to Chinese Medicine Treatments
Rebecca Avern – 17th September – Why do children become ill?
Mary Elizabeth Wakefield & MichelAngelo – 22nd and 24th September – Vibrational Acupuncture: Integrating Tuning Forks with Needles
John Hamwee – 29th September – Amplifying the Power of Treatment
Hamid Montakab – 6th October – TCM (Traditional Chinese Medicine) versus CCM (Classical Chinese Medicine)
We are in the process of confirming many more events with our authors. Follow our Facebook page to stay up to date with upcoming events!
Please note: webinars will be available for 24 hours, after which they will be available for purchase through the Singing Dragon Library for a small fee.