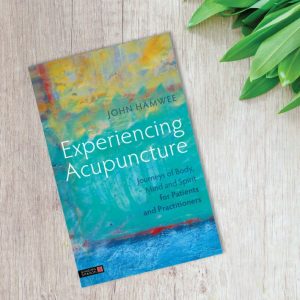 John Hamwee is an experienced practitioner and teacher of acupuncture and zero balancing, with over twenty-five years' experience in practice.
He is the author of Experiencing Acupuncture: Journeys of Body, Mind and Spirit for Patients and Practitioners, which was published in April 2020, as well as Acupuncture for New Practitioners, Intuitive Acupuncture, The Spirit of the Organs and Zero Balancing.
In this article, he briefly explains why he decided to write his latest book, and how he hopes it will help both acupuncturists and their patients.
I am often puzzled and regularly find myself faced with difficult choices in my acupuncture practice. How many times in the treatment room have I thought – I wish I could talk to one of my teachers right now. I know they wouldn't tell me what to do but they would make suggestions based on their deep knowledge and long experience. They'd say how they managed when they struggled with diagnoses which were convincing but didn't work, when they found the  messages of pulse, tongue and symptoms contradictory, and when they too had patients who somehow seemed to resist treatment. Continue reading →