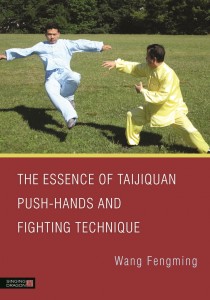 This extract from The Essence of Taijiquan Push-Hands and Fighting Technique by Wang Fengming features unique silk-reeling exercises from Chen-style Taijiquan. This coprehensive training manual has never been available in English before and the practices are traditionally shrouded in secrecy.
In The Essence of Taijiquan Push-Hands and Fighting Technique Master Wang Fengming, an eleventh generation practitioner of Chen-style Taijiquan, provides detailed information about the famous internal fighting techniques and reveals inside knowledge essential to the remarkable results achieved by the Chinese masters. The book features:
effective ways of cultivating Taiji internal power
variety of joint-locking techniques and counter techniques
13 postures of Taiji explained
leg work, including stances and kicking techniques
unique silk-reeling exercises
rarely revealed vital point striking
7 styles of push-hands training
20 kinds of Taiji energy explained and demonstrated.
This comprehensive book is a major contribution to the literature on push-hands techniques in the West and is available from the Singing Dragon website.