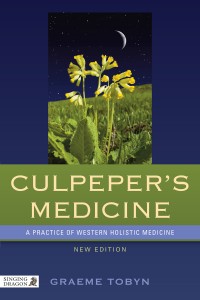 In this extract from Culpeper's Medicine, Graeme Tobyn traces the ancient Greek and Egyptian philosophy on medical astrology, showing how this informed the work of Nicholas Culpeper, the noted 17th Century herbalist, physician and astrologer.
Click here to read the extract.
'This book presents an invaluable account of the principles and practice of the renowned 17th century herbalist and astrologer Nicolas Culpeper. Graeme Tobyn has masterfully encapsulated and interpreted the philosophies and empirical knowledge preserved within Culpeper's writings which are still highly relevant to modern herbalism. Whether you are a scholar of herbal medicine or are just interested in herbs or traditional medical practice, this book is a must read.'
—Dr Julie Whitehouse, Principal Lecturer of Herbal Medicine, School of Life Sciences, University of Westminster
Graeme Tobyn has been a practising medical herbalist for over 20 years, including two years working for the NHS. He is currently the Course Leader on the Herbal Medicine degree at the University of Central Lancashire and is an external clinical examiner for other herbal training programmes in the UK. He is a member of the Editorial Board of the Journal of Herbal Medicine and lectures internationally. Graeme lives in Lancashire, UK.
© 2013 Singing Dragon blog. All Rights Reserved