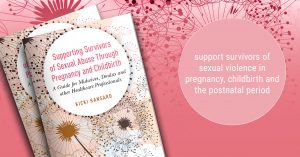 Kicki Hansard is a certified birth and postnatal doula with experience in all aspects of pregnancy, childbirth and early parenting. Since 2002, she has been preparing couples for the arrival of their baby and supported many of them through the birth and postnatal period. Kicki is also a doula course facilitator and has trained over 850 aspiring doulas. Her new book, Supporting Survivors of Sexual Abuse Through Pregnancy and Childbirth: A Guide for Midwives, Doulas and Other Healthcare Professionals is published by Singing Dragon, and is out now.
How was the book born?
I guess the reason why I wanted to write this book was because I wanted to make a difference to survivors and to give them a way of putting into words what the maternity experience can be like for them.  It all happened quite by chance when Claire Wilson called me from Singing Dragon, asking if I knew anyone who would write a book about supporting survivors. She'd come across my name though a social media post following a talk I had given at a recent study day. I tried to think of a few midwives that I knew were focusing on this very topic and then Claire asked me if I would be interested in writing the book myself.  I came off the phone, having promised Claire I'd send her a proposal and that is how this book was born.
As I'm not a sexual abuse survivor myself, I designed a questionnaire and advertised on social media for help with writing a book about how to support survivors during pregnancy and childbirth.  I had a big response, and in the end, sixteen women filled out the questionnaire and the book was built around them and the information that I had been given. This book would not have been written if it weren't for the help and support of these women, who all took the time to share their experiences with me. I felt a huge sense of responsibility as I started putting the book together. I wanted to get the statistics right and find the studies that were relevant. I ended up spending a week in an Airbnb by the sea where I wrote most of the book.
Why is there a need for this book?
There were many times during my writing that I realised why no one had written this book before. It's a tough topic and there really is no other way to tackle it apart from head-on. The women's stories were harrowing and deeply hard-hitting, often highlighting the lack of understanding and support but also simply a lack of kindness. I can see why it had to be written by someone outside of the medical model but with a good understanding of maternity services. My hope is that everyone that reads the book will focus on discovering how they can make the experience better for survivors and putting the people they look after at the centre of their care. Then the message will come across in the way it was intended.
What key information does the book convey?
There are so many complex and very individual reasons why pregnancy and childbirth are often challenging for survivors. It's more than potential physical scars that the abuse leaves; psychological issues like the ability to trust others and feeling safe are huge. The reasons why many survivors of abuse are often re-traumatised in maternity services are because their care givers are unaware of what signs to watch out for or how to deal with situations. I'm hoping that my book will give everyone tools and ideas that will work in practise.
I think we need to be willing to look at the situation from a survivor's perspective, using our empathy to understand the emotions that might drive certain behaviours. It really is never helpful to become defensive and forceful with anyone that is expecting a baby. If you've heard Aesop's Fable of The North Wind and the Sun, you will understand that a strong and cold wind will only make someone hold on tighter and so prevent them from hearing and understanding the reasons behind what you're trying to communicate. As caregivers, we also need to recognise our own emotions so that we can understand why we do things. Are we doing things for our own sake or for our client's sake? What do we need to do to ensure that we remain respectful of our client's choices whilst still protecting ourselves?
Most of all, I hope for a future where no one in maternity services, client or caregiver, will say, 'I had no choice – I had to do it". I believe that the experience of birth should be a joyous occasion for the parent(s) even in extraordinary circumstances, and that the lasting memory of childbirth is a positive one where no one is left living with regret or guilt.
Let's start by believing what women and birthing people are saying, listening to how they want to do things and trust that they know what is right for them and for their babies.
To me, this is the only way to ensure childbirth and parenthood gets off to the optimal start.
---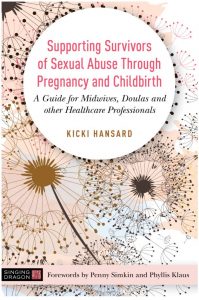 Supporting Survivors of Sexual Abuse Through Pregnancy and Childbirth
A Guide for Midwives, Doulas and Other Healthcare Professionals
Kicki Hansard
Guide for birth professionals on supporting survivors of sexual abuse through pregnancy, labour and postnatal periods, with research-based guidance on how to tailor support to these women.