We recently met with contributors to the new Yoga Student Handbook, including Sian O'Neill, editor of the book and host of the discussion, as well as Tarik Dervish, Alison Leighton, Wendy Teasdill and Graham Burns. In this podcast, they share ideas and tips for the budding yoga student as well as seasoned yogis and yoga professionals.
In their discussion, the contributors touched on the history and philosophy of yoga, where to begin your yoga practice if you're a beginner yogi, how to develop your home practice and when to consider teacher training. Although they've all contributed to the book, some of them have never met in person. This was a great opportunity for them to meet, get to know each other and exchange ideas.
Click below to listen to the discussion.
---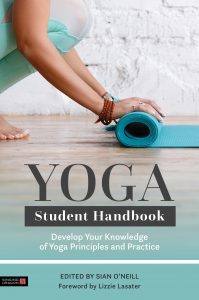 Yoga Student Handbook
Develop Your Knowledge of Yoga Principles and Practice
Edited by Sian O'Neill. Foreword by Lizzie Lasater
This practical companion for yoga students and teacher trainees shows how to deepen your knowledge of yoga and where to go next in your training, whether you are thinking of developing your own practice or considering becoming a yoga teacher. It covers the history, philosophy, different styles of yoga, and more.