Ray Griffiths, author of Mitochondria in Health and Disease, is interviewed by Benjamin Brown, ND on this episode of the Positive Health Podcast. The interview discusses the functions and characteristics of the mitochondria, their relevance to health, and the role of nutrition and lifestyle medicine in improving mitochondrial function.
With thanks to Positive Health Podcast, an interview series for health professionals featuring leading clinicians, scientists and health advocates in integrative, functional and nutritional medicine.
---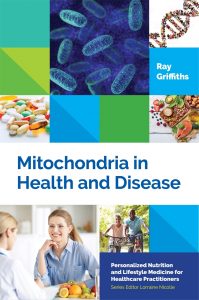 Mitochondria in Health and Disease

Ray Griffiths. Foreword by Lorraine Nicolle
As the body's energy suppliers, mitochondria have a serious impact on our health. This practical, evidence-based guide explains the potential consequences of mitochondrial dysfunction, and how personalized nutrition can optimise mitochondrial health and help, prevent or address chronic disease.