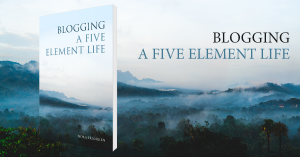 Following the release of Blogging a Five Element Life, we caught up with author Nora Franglen to ask her some questions about her life as an acupuncturist and what people can expect from her new book.
Your book documents the period between 2014-2017, and touches on significant events from these years. What changes in the world have most influenced you during this time?
Undoubtedly the referendum vote for Brexit and the election of Donald Trump dominated the last year. These two events had a profoundly depressing effect on me and on many other people, including my patients. I was made even more aware of how important it is to accept the differences between people, which a knowledge of the five elements helps us towards. I hope, too, that it can make us more tolerant in an increasingly intolerant world.
How do your life experiences, or current events, influence your practice as a Five Element Acupuncturist?
Following on from the first question, I have become aware of how my patients are increasingly stressed, both for financial reasons as Brexit affects their living standards, and because of their fears for the future, particularly those who are not British citizens. There is a more fearful feeling in the practice room, and this has certainly affected the kind of treatments I feel my patients need.
Some of your blogs are reflections on Acupuncture, and some are on daily life. How do you decide what to include in your blogs?
My blogs are written as spontaneous reactions to whatever is going on around me, both in my daily life and in relation to acupuncture. I have never needed to decide between these two aspects of my life, as I do not see them as separate but as both together representing my life.
How do you see your blog evolving over the next few years?
One of the questions that I am tussling with is how much to include in any future blogs of the writing I am now pulling together for a proposed next book. I think of this book as being part of the legacy I wish to leave behind for other five element acupuncturists. I am drawing together some of my unpublished writings which I have accumulated over the years and have not yet included in my other books. These are mostly in a longer format than those usually included in a blog, which I regard as being more like snippets of thoughts. How to reconcile these longer passages with the shorter form demanded of a blog is occupying me at the moment.
Lastly, what do you hope readers take away from your book?
A greater interest in other people; a deeper understanding of why people differ from each other, and an explanation for these differences gained from learning about the five elements; above all, greater tolerance of these differences.
Click here to read more about Blogging a Five Element Life. You can read an extract from the book here.
If you would like to read more articles like this and hear the latest news and offers on our books, why not join our mailing list? We can send information by email or post as you prefer, and please also tell us about your areas of interest so we can send the most relevant information. You can unsubscribe at any time.
---
Books By Nora Franglen
The follow-up to Nora Franglen's first book of collected posts on the holistic life of an acupuncturist, this provides further insight into the everyday musings of a master of her craft. From her love of London's cafes to challenges she has experienced in her clinic, it reveals how acupuncture can enrich and balance all aspects of our being.
Read more about the book here.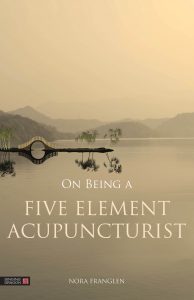 On Being a Five Element Acupuncturist
Based on her well-read blog, Nora Franglen provides a rich insight into the inner thoughts and feelings of a master acupuncturist. Covering everything from her love of coffee shops to how to treat patients effectively, it is reveals the holistic and rich nature of acupuncture.
Read more about the book here.
The Handbook of Five Element Practice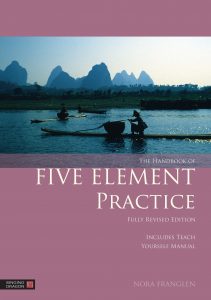 A companion for practitioners of Five Element acupuncture that strengthens the foundation for practice. With detailed outlines of the different components of Five Element diagnosis and treatment, this complete manual will support and invigorate practice. It also includes a Teach Yourself Manual.
Read more about the book here.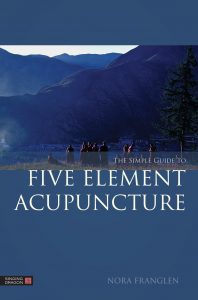 The Simple Guide to Five Element Acupuncture
This accessible guide explains the history and philosophy of five element acupuncture, and shows how it addresses specific health needs and general well-being. With case studies throughout, the guide explains how an acupuncturist diagnoses and treats patients, and looks at the character of each element.
Read more about the book here.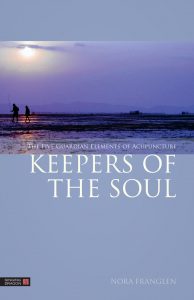 Keepers of the Soul
With profiles of well-known figures, the book explains the spirit of each of the Five Elements of Chinese medicine, and what they look like in different people. The philosophy behind Five Element acupuncture is explained, including what it means to live in harmony and how the Five Elements help shape our body and soul.
Read more about the book here.
Considering acupuncture in its wider context, this book contains Nora Franglen's reflections on her practice and explores how the search for acupuncture points can lead the practitioner deep into challenging areas of existence.
Read more about the book here.